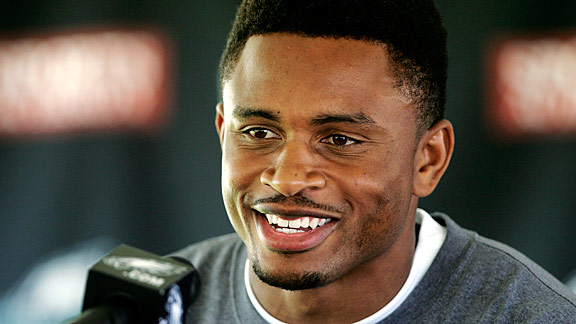 Where should Nnamdi Asomugha take his talents this offseason? (AP Photo/Rich Schultz)
Free agency, as usual, has died down, unless you live in Colorado and have a dodgy fax machine, as it usually does after the initial rush. However, like every year, once the public eye has turned away, there is still quality to be found to fill vital needs even if they are not the huge star signings of the offseason.
These are some of the best NFL free agents still on the board and where I think they would fit perfectly, even if they do not think so themselves.
Kevin Kolb, QB – Green Bay Packers
Quick, tell me the name of the Packers backup quarterback. You can't, can you? I doubt many Packers fans can, either. It's Graham Harrell and I bet you still had to check who he is. We saw what can happen in the playoffs when a starting quarterback goes down last year with divisional rival Minnesota, even when Christian Ponder spends his games just handing off to Adrian Peterson.
Kevin Kolb has had his starting shot and failed, but can return as a dependable number two who can utilize the targets in Green Bay well enough to manage games if the unthinkable happens to Rodgers.
Ahmad Bradshaw, RB – St. Louis Rams
Bradshaw is only 27, so he should still have enough in the tank to spell Daryl Richardson. More importantly, he will be happy enough to come back into the league and has enough in the tank to take over if Richardson proves to be a one-year wonder or goes down injured.
Andre Smith, OT – Arizona Cardinals
Arizona has been the revolving door for quarterbacks since Kurt Warner retired…or should that be seen as the constantly opening trapdoor as most of them seemed to have spent most of their time on the floor? The Cardinals seem resistant to adding to their quarterback stable or, more importantly, doing anything to keep their current QB upright. Therefore, the least they can do is spend big on a premier run blocker to at least make defenses think about the run before pummelling the quarterback every single down.
Darrius Heyward-Bey, WR – Houston Texans
It is about time Houston upgraded Andre Johnson's partner before the opportunity of a Texans Super Bowl run ends completely. DHB might not be the biggest upgrade on Kevin Walter, but despite his poor hands, his speed makes him a big play threat who needs to be respected and keeps secondary's from playing up on the line to stop Arian Foster.
Sedrick Ellis, DT – Dallas Cowboys
Dallas needs players all over their defense to facilitate the change to Monte Kiffin's 4-3. Sedrick Ellis is a tackle that fits that system, looking for a second chance to prove the talent that once made him a 7th overall pick.
Alan Branch, DT – Minnesota Vikings
This may be the least exciting name on this list, but he is a decent tackle, particularly against the run, who can help anchor a defensive front and allow others to make the splash plays. Plugging Branch next to Kevin Williams would see Jared Allen's numbers go back through the roof.
Shaun Phillips, OLB – Pittsburgh Steelers
The Steelers not only need to replace James Harrison, but as they only ranked 15th in sacks last year, upgrade the position entirely. Phillips may not be the long-term solution at 31, but he is younger than Harrison and got 9.5 sacks on his own last year.
Nnamdi Asomugha, CB – Tampa Bay Buccaneers
The Bucs finished seventeen yards shy of being the worst pass defense in NFL history. This is not only because they had poor corners, but were also made to play a lot of one-on-one coverage, a brutal combination. Hence why they seem so desperate to acquire Darrelle Revis.
However, before Asomugha got his big money deal with the Eagles and looked horrendous in zone coverage, he was considered just as shutdown as Revis in man coverage, if not better. Being forced to play outside his skill set in Philly does not make him any worse at what he excels at. What it does mean is he is an awful lot cheaper than Revis and wouldn't cost the Bucs a whole plethora of draft picks.
Quintin Mikell, S – Washington Redskins
Washington's secondary is a mess and if they expect the nickel corner of a nigh-on historically bad pass defense (E.J. Biggers) to fix it they are very much mistaken. Adding Mikell, who is still a starting caliber safety on a one or two year deal would be a financially prudent deal. Therefore, it is rather unlikely to happen.
David Akers, K – Cleveland Browns
Akers had a horrible year in 2012, going 29 for 42, by far his worst year in the league. There are mitigating circumstances, though, as he dealt with a sports hernia injury throughout most of the season. He is still one of the better kickers in the league, as he proved by going 4 of 5 in the postseason, and would be a perfect addition for the Browns, who have just lost long-term kicker, Phil Dawson.
By: Steve Moore
E-mail: steve.b.moore@hotmail.co.uk
Twitter: @Steve_Moore1988