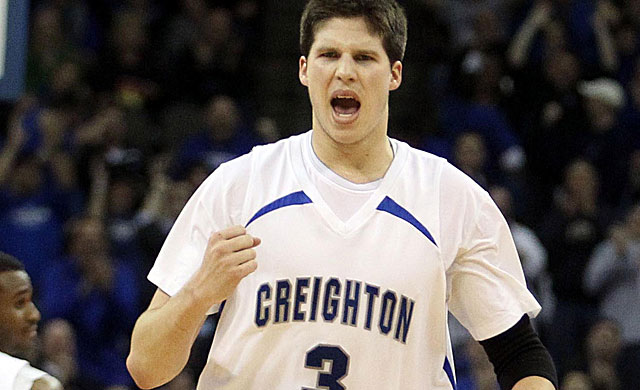 For more preseason coverage of the 2013-14 college basketball season, click here.
Say what you will about last year's seismic shift across the college basketball landscape, the Bluejays aren't complaining. Creighton is one of the biggest benefactors of conference realignment, taking their faithful fan following, sleek pro-style arena, and legacy of solid basketball into the revamped Big East.
Creighton has all the makings of a mid-major team ready to elevate itself amongst the likes of Gonzaga, Butler, and VCU to compete with the top-level competition offered in its new conference.
For starters, the Bluejays are in a decent-sized urban market of Omaha, NE, where they finished sixth in the nation in average attendance, beating out Kansas and Ohio State among others. Suffice it to say, it's a fan base that is ready for a breakout year.
More importantly, two-time All-American Doug McDermott returns for his senior year after playing for Team USA in the World University Games. After a season in which he averaged 23.2 PPG and 7.7 RPG while connecting on 49 percent of his three-point attempts, McDermott is a legit NBA prospect and a top candidate for National Player of the Year.
Grant Gibbs is one of four starters to return to the team after being granted a sixth year of eligibility. The 6'5" swingman has led the Mountain Valley Conference in assists the past two season, according to KenPom.com (subscription required), and is considered one of the best floor generals in college basketball.
Senior forward Ethan Wragge brings additional depth to this already experienced lineup. Last year's MVC Sixth Man of the Year and captain of MVC's All-Bench Team, Wragge was ranked as the 13th best shooter in the nation, according to CBSSports.com.
Creighton enters a new conference with plenty of experience and talent, but they might not even need it – well, at least to begin the season.
With a player of the year contender and ridiculous experience and depth, the Bluejays seem like they would be shoo-ins as Big East favorites despite competition from veteran Marquette and Georgetown squads.
However, the Bluejays need to answer serious questions about their lack of an inside presence.
McDermott has the ability to man the middle if need be, but the Bluejays lost 6'9'' big man Gregory Echnique, who anchored the post for Creighton last season. Echnique was an enforcer down low, staying out of foul trouble while swatting away nearly two shots per game.
Two towering big men have the potential to fill the void down low. Seven-footer Geoffrey Groselle may still be too young and underdeveloped offensively to garner significant minutes in his sophomore year under head coach Greg McDermott, but 6'11'' junior Will Artino will no doubt have to contribute more than the 7.9 MPG he played last year. Even Wragge is versatile enough to alter his inside-outside game to a more conventional back-to-the-basket type of post play.
Creighton enters a new conference with plenty of experience and talent, but they might not even need it – well, at least to begin the season. The Bluejays non-conference schedule is not exactly a cakewalk, but it's very close to it.
Creighton's toughest tests could come from dark horse Pac-12 contender Arizona State or likely tourney team California. Creighton faces a potential contest against Marquette in advance of their December 31 Big East duel if both teams win out during an early season tournament.
Even if Creighton runs the table early, the pressure will still be on to get quality wins later against tougher Big East opponents.
The Bluejays clearly have a treasure trove of depth and talent at nearly every position, not to mention arguably the best player in college basketball. But, Creighton's success will likely hinge on how quickly they address issues in the low post.