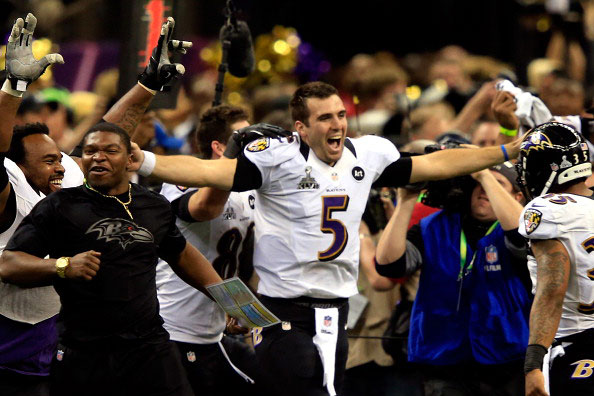 All progress is the result of change, though change does not necessarily guarantee progress. In the world of professional football, limited rosters and wide open free agency create an environment where change – rapid and persistent change – is the rule and not the exception.
The days of career-long stays in one town with one franchise are largely behind us, and the general manager who cannot navigate the constant ebb and flow of roster turnover will find himself doing ESPN commentary within a fortnight (maybe…I don't know what a fortnight actually is, and you probably don't either).
One franchise that has excelled for several years at adapting to change is the defending Super Bowl champion Baltimore Ravens. By maintaining a select group of dependable veterans who exemplify their culture and style, Baltimore has been able to rotate through the moving pieces to remain among the elite franchises of the league for more than a decade.
[Ready for the 2013 Fantasy Football season? Sign-up for FanDuel.com using promo code TSP for a 50% deposit bonus!]
The defending World Champs will no doubt be a significantly changed team in 2013. They will, in fact, be perhaps the most turned-over version of the brand in practical terms since its move from Cleveland in 1996. Two sure-fire Hall of Famers whose names and identities are interchangeable with the franchise itself depart, along with a slew of skill position standouts and front seven favorites.
It is hard to think of a single franchise in all of sports more associated with one player than the Ravens with Ray Lewis. Lewis was drafted by the Browns in the first round of the 1996 Draft (along with fellow longtime Raven rock Jonathan Ogden), began play as a Raven, and spent the entirety of his career with Baltimore, becoming in the process one of a handful of players who could realistically be included in the conversation of "Greatest Linebacker Ever".
That's not to say that Baltimore will be struggling to find an identity in his wake. The purple birds return a good deal of the nucleus of their title-winning team. Joe Flacco, one of the premier "How good is he, really?" players in football, returns at quarterback, though he will be without previous top target Anquan Boldin.
Torrey Smith and Jacoby Jones return at wideout, along with tight end Ed Dickson, and many have speculated that 2013 is the year Flacco will finally spread the ball around enough to be a true franchise quarterback. The loss of Dennis Pitta to injury won't help, but if your fortunes rest on your second tight end, you probably weren't going to make the playoffs out of the AFC North in the first place.
Ray Rice, one of the most versatile running backs going, will be back in the backfield, and Bernard Pierce provides the necessary breaks for breathing that even Ray Rice needs now and again. The line, hit or miss through much of 2012, really came together down the stretch through their title run, and appears to be in good shape heading into the new season.
Assuming consistent blocking and dependable production from the running game, the offense could be quite formidable if Flacco is finally able to match his strong arm with some stronger numbers.
But of course, these are the Ravens, and the Ravens start with defense. On the defensive side of the ball, despite losing such big-time talents as Lewis, Paul Kruger, Dannell Ellerbe, Ed Reed and Bernard Pollard, things figure to be as they've always been for Baltimore — smashmouth and smashingly effective. Rookie Matt Elam will take over for future Hall of Famer Reed at safety, Michael Huff was brought in to stabilize the secondary, and Lewis will have his monstrously-oversized shoes filled by rookie Arthur Brown.
Elite veterans like Haloti Ngata up front and Terrell Suggs in the middle will attempt to maintain the momentum of the last decade and change, and the addition of Elvis Dumervil opposite Suggs adds another big-time playmaker to the mix. If they can mold the pieces together into a whole, the infusion of young talent should see the defense rebound from a statistically weak 2012.
Maybe the top question for Baltimore in 2013 is how they will replace one of the best team leaders in professional sports. Change is said to be good, but this is a case where that old standby does not appear on its face to be a given. Someone will need to step up in Ray Lewis's absence to lead this team if they are to have a realistic chance of repeating 2012's title run.
[Do you want to put your NFL knowledge to the test with weekly fantasy football? Sign-up for FanDuel.com using promo code TSP for a 50% deposit bonus!]
Head Coach John Harbaugh is one of the best in the business, but leadership should come from somewhere closer to the huddle than the teeming mass of purple-clad humanity on the sidelines.
Replacing the soul and fire of Lewis may well prove impossible, and the fortunes of Baltimore may well rest in what degree of success can be found in this regard. Change is unyielding and unforgiving, and we will see whether or not Baltimore has once again managed to harness change in order to stay right where they are — on top.
By: Jeremy Hurtt
Twitter: @JeremyHurtt