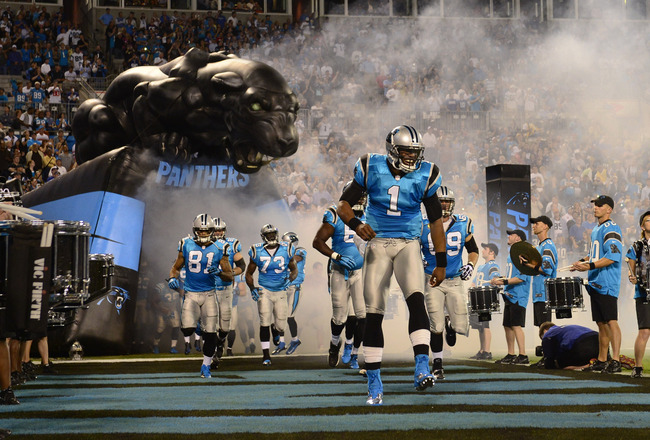 The Carolina Panthers are one of those many teams that are stuck somewhere in the middle of the NFL pack. They will win some games and they will lose some games, and ultimately we won't pay much attention to them.
But with that said, they have something brewing in Carolina. This team is on the right path and in a few years, I fully expect them to battle deep into January.
But let's get back to the 2013 Panthers. They have one major thing going for them and that is that they are returning all eleven offensive starters. For a young team with a dynamic young quarterback, that is key. Cam Newton already has a rapport with all of his teammates on the field, and that will make things easier for him.
Also, with new offensive coordinator Mike Shula it appears that the offense will take on a more conventional approach, which means Newton will spend more time in the pocket using his arm than his legs. This is important because it means that he will better be able to preserve his body and improve as a passer.
Newton's favorite target, Steve Smith, is now 34 and based off of last season's regression, it is fair to say that he is starting to lose a step. Maybe Newton passing the ball more will help inflate his numbers, but maybe not. If that is not the case, the Panthers made just the moves to counteract Smith's regression: they signed both Ted Ginn Jr. and Domenik Hixon to add some firepower to the offense. They will most likely battle for the number three receiver position, but either way, they will give Newton added targets.
The offense ultimately depends on how Newton advances in his third season, and as I have already covered, I expect a big year from him. His lack of strong weapons will cause this offense to be average, but knowing Newton's competitiveness, last season's disappointment will push him to heights we expected on draft day.
Defensively, Carolina has some holes that the front office put some Band-Aids on. Drafting right tackle Star Lotulelei with their first round pick will help their inability to stuff the middle. Lotulelei is a massive, athletic tackle that will be able to create gaps in opposing offensive lines, which will help Jon Beason and Thomas Davis get to the quarterback and running back.
The Panther's linebackers are a solid group, but Beason has had a problem staying on the field the past two seasons, totaling only five games in that span. He is a major piece of this defense and needs to be on the field for it to play at its highest level.
The secondary made some nice additions with cornerbacks D.J. Moore and Drayton Florence, and safety Mike Mitchell. They should help a unit that struggled a tad last season, which is unacceptable considering their edge rushers are so talented and give the receivers very little time to get open.
Again, the 2013 Panthers are not going to surprise or disappoint us. They will be exactly what we think they are: an okay team. But with an improving franchise quarterback and a young and up-and-coming defense, this team is not far off.
By: Matt Levine
Twitter: @Matt_TFJ