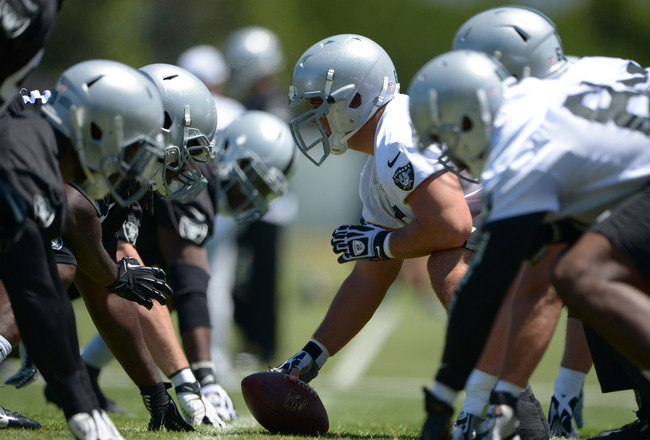 The Oakland Raiders are like Keeping Up With The Kardashians. They both make you feel sick to watch, but you get an odd sense of entertainment from the stupidity, and therefore can't stop watching.
And while you watch both, you constantly question, "What are they doing!?" Well, what are the Raiders doing? Over the offseason they lost defensive tackle Richard Seymour, wide receiver Darrius Heyward-Bey, safety Michael Huff, linebacker Rolando McClain, defensive lineman Desmond Bryant, linebacker Philip Wheeler, defensive lineman Dave Tollefson, cornerback Shawntae Spencer, tight end Brandon Myers, punter Shane Lechler, and of course, quarterback Carson Palmer.
So in other words, Oakland lost their entire roster over the offseason. Or we all wish that were the case, because the squad they are putting out on the field would get their money's worth in a scrimmage against Paul Crewe's team in The Longest Yard.
On offense, the biggest and somehow smallest concern is who is going to be the starting quarterback. All evidence points to Matt Flynn starting the season as the guy, but who knows if he will get the boot in a no-win situation mid-season in favor for youth and upside. Youth and upside goes by the name of Tyler Wilson, who has proved about as much as Flynn in the pros, which is just about nothing.
When it comes to weapons the Flynn/Wilson duo will have to throw to, they are slim to none. Denarius Moore had a decent season last year with 51 receptions for 741 yards and 7 touchdowns as the second option in the receiving corps, but he will need to step it up now that Heyward-Bey is out of the picture.
Rod Streater will line up across from Moore, but since he only had limited action in his rookie season last year, we do not have much to judge him on — much like most of the Raiders' receiving group. An interesting signing is that of Josh Cribbs. He is the prototypical Raider: someone who has extreme speed and explosiveness, but does not have any significant role on the team. I'm not sure how much he will line up at receiver, but signing Cribbs is definitely another one of those Kardashian moments.
Lining up behind the Flynn/Wilson duo is Darren McFadden, who by on-paper standards is one of the best running backs in the league. Unfortunately, McFadden spends more time on the injured list than he does on the field. If he can stay healthy I expect a great season, but he has never played a full season in his career, so it's hard to predict a great season for McFadden.
The Raiders did happen to make a smart move over the offseason in the form of signing Rashad Jennings as McFadden's backup. Jennings has proved on the Jacksonville Jaguars that he is a capable back, and when (not if) McFadden gets hurt, Jennings should be able to fill in nicely.
The Oakland offensive line is surprisingly pretty solid as well. Jared Veldheer has become a dependable left tackle, and he will be essential in protecting whichever quarterback they choose to throw into the fire that is Oakland's offense. In other words, this offense is in trouble.
As for the defense, they do not fare much better. They ranked second to last in sacks last season and did not add any above average pass rushers through the draft or free agency. Oakland, what are you doing!?
They did, however, beef up the secondary, adding their first round draft pick D.J. Hayden. The cornerback is a great man-to-man defender, but as always, Oakland had to keep us entertained with this pick. Hayden had major heart surgery only a year ago, but that did not detract the Raiders' interest in any way. But why would it?
When you look at the gutting of the overpaid and underperforming players Oakland performed this offseason, the obvious idea is that they plan to rebuild…again…for like the gazillionth time. Mainly, with the lack of additions to the front seven, it appears obvious that the front office has their eyes on South Carolina defensive end Jadeveon Clowney.
I expect this team to be the worst in the league next season, and if that is the case they will be able to choose any prospect they want in the 2014 draft. For all Raiders fans, that's really all they have to root for this year.
By: Matt Levine
Twitter: @Matt_TFJ