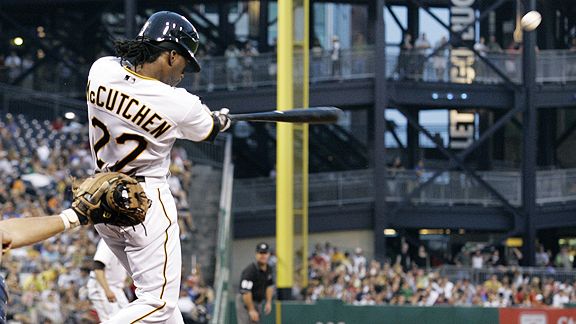 Baseball fans usually try to pretend the sport is a team game, that we are better than fans of other sports who obsess over individual awards.
But the fact is that baseball is a game of individuals relying on mostly their sole abilities to make the right play for their team.
And because of this, winning an MVP in baseball is so meaningful because, more than any other sport, teammates cannot ruin your chances. It is a true testament to the absolute most valuable player in a given league. And when it comes to legacies, these awards matter.
So, let's take a look at the National League MVP race this year to figure out which players will make a major mark on their personal legacies.
The Candidates:
Yadier Molina, Catcher, St. Louis Cardinals:
Yadier Molina has been known for years as the best defensive catcher in the game. No catcher calls a better game than him, and there is no other catcher you would want back there when you are throwing a curve into the dirt with the bases loaded.
He is a machine behind the plate, but early on in his career, his hitting was not up to par with his defensive aptitude. He has increasingly improved over the years with his hitting, which has brought us to this point. He is now the best defensive catcher and arguably the best offensive catcher on one of the best teams in the National League.
We all know that means that an MVP consideration is in order. Although he has been sidelined since July 30 with a knee injury, he has a .330 batting average, which ranks him second in the N.L.
The rest of his numbers are a bit skewed now in terms of N.L. rankings because he has missed so much time, but the fact that he is hitting .330 as a catcher is nothing to sneeze at.
Playing catcher is mentally and physically much more taxing than any other position, other than maybe pitcher, and for him to maintain that average is almost unthinkable. Other catchers have done it, but none have been as defensively valuable as Molina.
He will need to come back from this knee injury with guns blazing if he wants serious considerations. That, and the Cardinals need to beat the Pittsburgh Pirates for the N.L. Central division lead.
I don't see either of those happening, so I would be surprised to see Molina as the 2013 N.L. MVP.
Clayton Kershaw, SP, Los Angeles Dodgers:
As my good friend and fellow Sports Post writer Michael Barbosa likes to say, quite simply, Clayton Kershaw is that guy. There is no better way to put it. He is virtually unhittable and every statistic, but one monumental one, points to it.
Although he leads the league in ERA with a 1.88 and ranks second in the National League in strikeouts and WHIP, there is one glaring hole in his stat sheet. Kershaw's record stands at an okay 11-7.
At the end of the day, a record does not portray completely the season a pitcher is having because so many other components come into the equation when trying to win a game.
But at the same time, a MVP measures a player's worth and if Kershaw's performances can only account for 11 wins, could he even be named the Dodgers's most valuable player? When you look at it like that, and that's the only way you should look at it, how could you vote for him?
Justin Verlander is the only starting pitcher in either league to win the MVP since the 2000 season — in 2011, he posted 24 wins. 24 wins! Now, that is a starting pitcher who really is the MOST valuable player in the league.
Even if his mediocre record is not completely his fault, the point stands. If his team is not winning when he is on the mound, then his value has to be questioned.
There are other candidates out there accounting for far more wins.
The N.L. MVP:
Andrew McCutchen, CF, Pittsburgh Pirates:
The MVP is a guy that gets it done in all facets of the game. The MVP is a guy who plays at a high level for one of, if not the best teams in the league.
The MVP is Andrew McCutchen.
Interestingly enough, Cutch has enjoyed far worse statistics this season than last, but unlike last August, the Pirates are one of the better teams in the National League
And also, McCutchen is still having a phenomenal season. Consider this: Cutch ranks in the top 10 in runs, hits, doubles, RBI, walks, stolen bases, batting average, OBP, and SLG. Is that even real?
He has been the offensive motor for Pittsburgh and that is a strong addition to his resume considering how well the Pirates are doing this season.
On top of that, McCutchen plays centerfield, also known as the quarterback of the outfield, and he does it at a high level. This play against division rival St. Louis is just one example of Cutch's immense contributions in the field.
At the end of the day, McCutchen does it all for one of the best teams in the league. So, as long as the Pirates can remain atop the N.L. Central, he will be the leading candidate for the MVP award.
We all know the voters fall in love with the under-dog stories, and as long as the Pirates keep winning, they are exactly that.
The MVP is McCutchen's to lose, and based on his consistent play this season, I don't see that happening.
By: Matt Levine
Twitter: @Matt_TFJ