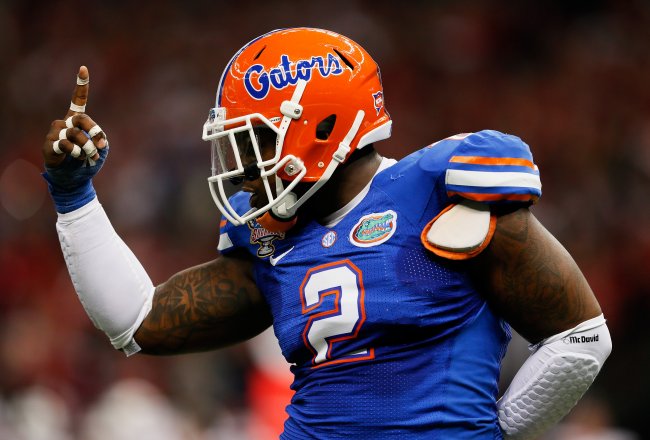 Matt Elam will be asked to pick up where Ed Reed left off. (Credit)
Pick for pick, I'd argue that no division had a better 2013 NFL Draft than the AFC North. The Baltimore Ravens just won the Super Bowl, so clearly their front office is doing something right. The Cincinnati Bengals have made the postseason three out of the past four years, and look poised to remain in the AFC playoff picture. The Pittsburgh Steelers had an off year, but are perennially one of the league's best-run franchises. And yes, things are looking up (not really, but still) even for the Cleveland Browns, where a new GM has made some aggressive moves.
Below are recaps for all four teams' drafts, with projected starters and late round players who will have a surprising impact.
Cleveland Browns
Along with the Carolina Panthers and New Orleans Saints, the Browns had the fewest draft picks in this year's draft, with five. On top of that, three of those five were in the last two rounds, so they really didn't have much to work with.
The moves they made that led to them having so few picks were respectable, though. They lost a second round pick for taking wide receiver Josh Gordon, who had a promising rookie season, in last year's supplemental draft. They traded for Davone Bess, and made another move that sent Colt McCoy to San Francisco, the ol' addition by subtraction move. Two other trades saw them move to picks from this year for picks in next year's draft, making a very active offseason for new general manager Mike Lombardi.
What they did get directly out of this draft are two immediate contributors on defense in outside linebacker Barkevious Mingo and cornerback Leon McFadden. Mingo worried scouts with production that didn't correspond with a typical top-ten pick, but he's an athletic freak. McFadden, on the other hand, has the speed and compact build to be a successful nickel back. But there isn't much to see here besides those two. Not getting an inside linebacker or a tight end doesn't help.
Projected Starters: OLB Barkevious Mingo, CB Leon McFadden
Surprising Impact Player: S Jamoris Slaughter – With his range and awareness, Slaughter can make an impact down the line for the Browns. He can sometimes be a bit too aggressive and over pursue in run support, but that's something he can work on. Slaughter also needs to stay healthy, something he couldn't do in high school (torn meniscus) and college (torn Achilles).
Pittsburgh Steelers
The Steelers did a great job of finding both immediate starters and guys who can provide depth. They took linebacker Jarvis Jones at 17th overall to replace James Harrison. Jones' poor pro day worried teams, but like I said in my first round analysis, he seems like a prototypical Steelers linebacker. His NFL career "candle" may not burn as long as others', so to speak, because of his spinal stenosis. But I'll bet it burns brighter than most.
Second round choice Le'Veon Bell is an absolute bruiser of a running back at 6'1" 230 lbs. His power running style, combined with the blocking of guys like Maurkice Pouncey and David DeCastro, will wear down opposing defenses.
To combat the loss of Mike Wallace, Pittsburgh drafted receivers Markus Wheaton and Justin Brown. Wheaton is a speedster with the ability to stretch defenses vertically, and Brown is a physical receiver who can win jump balls.
Safety Shamarko Thomas, a small but physical player in the mold of Bob Sanders, could turn out to be a great pick in the fourth round. He can learn behind Ryan Clark and Troy Polamalu before stepping into his own role.
This was a solid draft for the Steelers overall. The only issue they left unaddressed is tight end, with Heath Miller now 30 years old and coming off of a major knee injury.
Projected Starters: OLB Jarvis Jones, RB Le'Veon Bell
Surprising Impact Player: QB Landry Jones – Unless Bell or some other running back produces, this offense will continue to rely heavily on the playmaking of Ben Roethlisberger. His ability to gain yards with his feet and his tendency to hold onto the ball in the pocket has caused him to miss nine games in the last four seasons. Jones' NFL floor is probably as a solid backup, which is what this team needs right now.
Cincinnati Bengals
I don't foresee anyone in this draft starting as a rookie, but the Bengals still put together one of the best drafts in the league. Selecting tight end Tyler Eifert meant not filling a need with a first round pick, but the value was clearly too good for Cincinnati to pass up. He'll team up with Jermaine Gresham, plus wide out A.J. Green, to create three huge targets for Andy Dalton.
In the second round, the Bengals took running back Giovanni Bernard, who should form a committee with BenJarvus Green-Ellis. Bernard stands at just 5'8" but he's shifty, and a threat in the passing game as well. Fellow second round pick Margus Hunt should provide strength to an already deep defensive line. He needs time to adapt to the NFL level, but you have to be excited about a 6'8" guy who runs a 4.51 40-yard dash.
Safety Shawn Williams might be the first gain a starting role out of this draft class. The safety is strong against the run and can match up with slot receivers, but needs to learn how to deal with bigger, more physical opponents.
Projected Starters: None
Surprising Impact Player: OLB Sean Porter – He'll spend this season behind James Harrison, but Porter will likely replace the 35 year old next year. He's competent in pass coverage, an important factor in Cincinnati's 4-3 defense, and can form a strong line backing corps with Rey Maualuga and Vontaze Burfict.
Baltimore Ravens
The Super Bowl champions lost both inside linebackers and safeties this offseason. Everyone knows about Ray Lewis and Ed Reed, but Dannell Ellerbe and Bernard Pollard are also gone. No matter, the Ravens already have guys with the potential to be their replacements.
That's high praise for safety Matt Elam and linebacker Arthur Brown, but they both have the talent to fill big shoes. Elam's big knock is that he's just 5'9", which makes him a liability covering big receivers and tight ends, but he's a ball hawk who will make plays regardless of the opponent's size. Brown is also a bit undersized for his position at 6'0" 240 lbs, but he's still a solid tackler with the capability to be a three down player. With these two, Baltimore's looking at first round production from picks 32 and 56 in the draft, which is a bargain.
The Ravens added depth to both lines, drafting Ricky Wagner and Ryan Jensen on offense and Brandon Williams, John Simon, and Kapro Lewis-Moore on defense. The issue here is that they had been looking for a left tackle so they could move Michael Oher to the right side, but Wagner doesn't appear to be the answer.
The other concern with Baltimore's draft is that they took just one receiver, Aaron Mellette, and it wasn't until the last round. With the loss of Anquan Boldin, they have Torrey Smith, more of a number two wide out, playing first string, and Jacoby Jones, ideally a number three receiver at best, playing opposite him. Joe Flacco is really going to have to earn his $120 million, because he's not getting as much help from his teammates as he'd like.
Projected Starters: S Matt Elam, ILB Arthur Brown
Surprising Impact Player: FB Kyle Juszcyk – The Ravens have arguably the league's best fullback in Vonta Leach. But Leach, 31, is owed $4.33 million this year and will be a free agent at the end of the season. Juszcyk may not be the type of lead blocker Leach is at this stage, but he's both a better runner and pass catcher, giving the Ravens offense some versatility.
By: Joe Diglio
Twitter: @Joe_Diglio