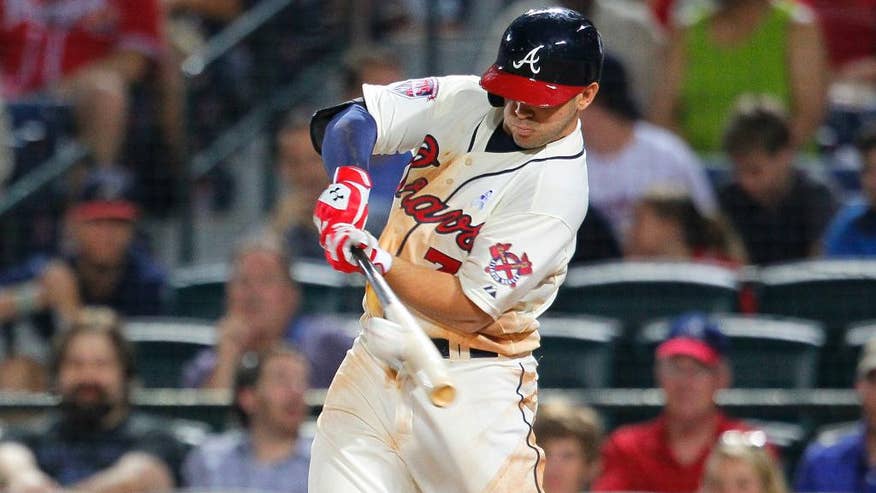 For much of the 2014 season, the Braves' offensive and defensive production from second base has been nothing short of awful. It was believed that Dan Uggla would turn things around on both sides of the ball after a historically terrible season in 2013, but after Uggla started the season off with a .168 average with two home runs, 10 runs batted in, and 37 strikeouts in 119 at-bats, manager Fredi Gonzalez was forced to make some changes.
Utilizing a three-man platoon, the Braves placed Uggla, Tyler Pastornicky, and Ramiro Pena into a rotation at second base week after week but not much progress was made. The trio hit for a collective .191 average, forcing Gonzalez to make another move.
Optioning Pastornicky down to Triple-AAA Gwinnett, the Braves called up highly-talented prospect Tommy La Stella. Rated as the ninth-best prospect in the Braves organization, La Stella is left-handed contact hitter with a reputation of taking more walks than strike outs.
The Braves immediately felt La Stella's impact on the field when he joined the club in Boston. Smacking two hits in his debut, La Stella hasn't really taken his foot off the accelerator two weeks afterward. He has 17 hits in 13 games, with seven multi-hit games. Although he is an average defensive player, La Stella has only committed one error.
After all the struggles that the Braves have gone through at second base, it is clear that La Stella is the future. The Braves have gone too long with inconsistent play at the position. For fans, seeing La Stella make an immediate impact is a refreshing change. Uggla has become unbearable to watch. I'd never wish for someone to lose his job, but it is time for the Braves to designate Uggla for assignment. His farcical play is why the Braves and their fans need La Stella at second base in the first place.
La Stella is an important cog in the Braves' game. He adds a dynamic that was severely lacking in the lineup: consistency without striking out. Those kinds of players change the outcomes of games more often than not.
With La Stella in the lineup, the Braves can rely on more than the long ball to score runs. A player like La Stella is needed in every team; he gives his team momentum on both offense and defense. The Braves are lucky to have him.