Brock Lesnar: WWE to UFC and Back Again
Brock Lesnar is a success story. To quote the man himself, he'd tell you, "I've been an underdog in athletics since I was 5…" It's hard to imagine Lesnar ever being an underdog in anything, except maybe as a horse jockey. Who was ever such a fool to count him out?
One can imagine the short time it would have taken to dub Lesnar's first nickname in WWE. When he initially gained prominence in 2002, he was known as "The next big thing." One look at Lesnar, and another look at what he was capable of doing, and even the most uncreative of folks could have come to that. He has been "the next big thing" in virtually everything he's done in his career.
Lesnar has stated that he received zero college offers for wrestling. His list of subsequent college wrestling accolades includes a junior college national championship at Bismarck State College in 1998, a Big Ten Conference championship at Minnesota in 1999, and another conference title to go along with a Division I national championship in 2000. That's about as high as honors go without going to the Olympics. But Lesnar had other plans. There was money green on his horizons.
After graduating in 2000, Lesnar signed with World Wrestling Federation (now WWE). He made his television debut on the March 18, 2002 edition of Monday Night Raw, after a stint wrestling in dark matches. For most of those in the sports entertainment industry, even for those who have made it big, a couple of years is criminally less than the amount of time considered common for "paying dues."
Lesnar has been "the next big thing" in virtually everything he's done in his career.
Even Stone Cold Steve Austin, renowned as one of the most iconic WWE Superstars to ever grace the ring, had to pay dues for the better part of a decade. Plus, he had to try on multiple gimmicks before finally striking gold with Stone Cold. "The next big thing," however, was on a fast track to stardom.
Just months after debuting on TV, Lesnar won the King of the Ring tournament. He was in good company. Winning the King of the Ring was traditionally a sign of good things to come. Previous winners include Bret "Hitman" Hart, Shawn Michaels, "Stone Cold" Steve Austin and Triple H. All were multiple time world champions. All were main eventers. All are WWE legends.
That very same year, Lesnar had a feud with WWE Hall of Famer Hulk Hogan, became the youngest champion in WWE history by defeating the former youngest in The Rock, and beat The Undertaker in his signature "Hell in a Cell" match.
Lesnar often found himself feuding with the Big Show. These matches would serve as spectacles for the raw power that Lesnar possessed. No man in history could have a match with the Big Show and pull off the moves Lesnar managed.
Lesnar could hoist Big Show up and execute his finishing F-5 maneuver flawlessly. He was even able to sit Show up on the turnbuckle, climb all three ropes in a Bret Hart fashion and deliver a top-rope superplex to the half-ton giant. The ring collapsed in the process but it was one of the most epic suplexes ever performed.
Lesnar has the build, strength, speed, and agility that no other wrestler before him can match. He is a true freak. Nothing displayed this more than the 2003 WWE Championship title match at Wrestlemania XIX against then-champion Kurt Angle.
Lesnar had won the Royal Rumble that past January, securing the traditionally guaranteed title shot at WrestleMania. After a classic match between the two, Lesnar hit the F-5 on Angle. Everyone was expecting the pin and the 3-count fall. Instead, Lesnar climbed to the top-rope and launched himself into a shooting star press.
The shooting star press is essentially a forward-jumping back-flip whereby you land splashing belly down onto an opponent. Lesnar had hit this move numerous times before in developmental matches. This time, though, he miscalculated the parameters.
It was intended to be an awe-inspiring grand finale, but Angle was a little too far away and Lesnar didn't quite complete the flip. He caught the back of his head and neck on the canvas as he came plummeting down. He was later diagnosed with a concussion from the incident.
Showing tremendous heart and guts, Lesnar did proud the mantra stating, "The show must go on." He was able to stand up and quickly deliver a final F-5 to Angle for the 3-count. He had won the WWE Championship in the main event at WrestleMania and had made a moment fans would not soon forget.
Later that year, Lesnar would defeat Angle 5 falls to 4 in a 60-minute Iron Man match. The former "Next big thing" had become that thing. He had taken part in a collection of classic WWE matches and had established himself as a top-notch performer.
At WrestleMania XX in 2004, Lesnar put Goldberg over after receiving Goldberg's finishing move the Jackhammer and being pinned. Lesnar subsequently departed from the WWE to pursue a career in the NFL.
He wound up making the practice team for the Minnesota Vikings but, in April of 2004, Lesnar had a serious motorcycle accident.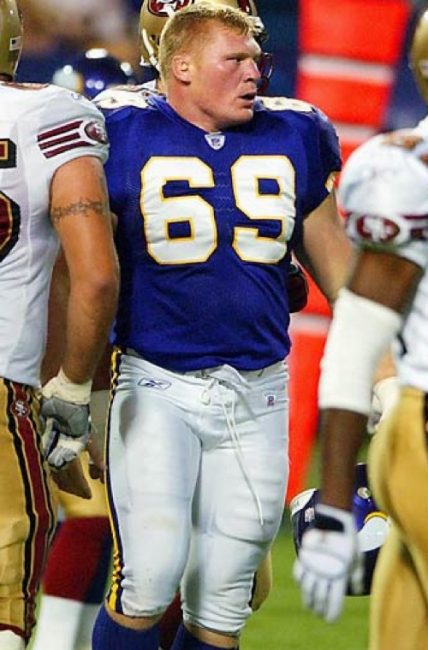 Despite making a full recovery and attending the Vikings' training camp in the summer, he was cut from the team. He was instead offered a spot as a representative of the Vikings in NFL Europa. However, he declined so he could remain with his family. After a short time wrestling in a Japanese pro circuit, he found his way into mixed martial arts competition.
After one fight in the K1 Hero's MMA organization, where he completely decimated Min Soo Kim, Lesnar sought to compete against the best martial artists the world had to offer.
He made a deal with the UFC and was set to have his first fight against veteran UFC fighter Frank Mir. Although Lesnar dominated the first portion of the bout, his inexperience got the best of him and Mir was able to put him in a leg lock, forcing him to tap out.
In his next fight, he steam-rolled Heath Herring with a scary display of violent dominance, going all three rounds and winning a lopsided judge's decision. Herring, a longtime veteran, never fought again professionally.
Lesnar's following bout would be against another veteran: then UFC Heavyweight Champion Randy Couture. In true Lesnar fashion, "The next big thing" in MMA was fast-tracked to a title shot. In just his fourth professional MMA fight, Lesnar defeated Couture by TKO and became the UFC Heavyweight Champion.
With that victory, Lesnar became the only man in history to win a NCAA Division I wrestling championship, WWE Championship and a UFC Heavyweight Championship. At UFC 100, Lesnar would go on to defend his title against the man responsible at that time for his lone loss, Mir.
That title defense would go on to be named "Beatdown of the Year" by Sherdog.com and was indeed a frightening display. Mir was trapped underneath Lesnar and unable to move, getting pummeled by cinder block fists until he was as close to dead without dying as can be. Lesnar had arrived with a vengeance. After just five fights, he was being called "The baddest man on the planet."
On top of his success in the cage, Lesnar was also one of the highest grossing UFC fighters at the time. His salary was on par with legends like Georges St. Pierre, and he was certainly a huge draw for the company. If it hadn't been for his personal battle with diverticulitis, a disease that would see him sidelined indefinitely, who knows how high he'd have soared.
The remainder of his MMA career was plagued by the condition. No matter what, there would always be two fights in his mind: the fight against the man across the cage and the fight for his own health. But be that as it was, when he finally did return after a long lay-off to defend his title for the first time since the Mir fight, there was a new side of Lesnar that rose for all to see.
He made his long-awaited return against UFC interim Heavyweight Champion Shane Carwin. Carwin was undefeated and had been regularly putting people to sleep with his own pair of cinder block fists. It was the first time in UFC history that the two competitors facing each other both had the custom 4XL size gloves on. It was the first true heavyweight fight, with both men having to cut weight to make the 265-pound limit.
In the first round, Lesnar got caught with some punches early and went down. He spent the remainder of the round on his back weathering a vicious storm and taking big shots. The side of Lesnar that hadn't been seen yet was coming out—the human side. Lesnar's heart was on display for all to see as he showed his toughness. He took a man's beating in that first five minutes but he managed to get to his feet and survive as the bell sounded to end the round.
In Round 2, Carwin had punched himself out. He could barely lift his arms and was completely gassed. Lesnar still had pep in his step and before long he shot a takedown, mounted, jumped into side-control, and locked up an arm-triangle choke. Carwin eventually tapped out. Lesnar had taken all Carwin had to give and made it out alive. He came out on top.
He'd had a humbling experience at the hands of someone with the same kind of power and brutality as himself. He was the better athlete that night and he defended his title as a man that night. For the first time ever, he wasn't "The next big thing," or "The baddest man on the planet." He said it best himself post fight when he said, "I stand before you a humble champion."
And while his illness continued to give him problems, and even though he lost his next two fights before retiring, what Lesnar achieved with his foray into MMA commands respect.
He defied odds. He started at the top where others have had to work their way up. In true Lesnar fashion, he skyrocketed to the pinnacle of all there was to achieve and he ripped that shiny gold from the grasp of those who would try and have it any other way. Lesnar was a success story and he fought his heart out to make it so. Nobody can ever take that from him.
He has since returned to WWE and just as things should be, he was catapulted to the peaks of greatness right away. His latest accomplishment is one that has no equal. Lesnar took on The Undertaker at WrestleMania 30. The Undertaker had been perfect at WrestleMania, ever since his first appearance there at WrestleMania VII. Famously known as "the streak," going into WrestleMania 30 The Undertaker was 21–0 in performances at the marquee event.
Lesnar was a success story and he fought his heart out to make it so.
Lesnar became the first man to defeat Taker at WrestleMania and sent him into permanent retirement. This marked a passing of the torch from out of the muzzle of a flamethrower. And Lesnar already has his sights set on his next goal.
For a man who is defining this era of sports entertainment, the former three-time WWE Champion will look to make it four. As Triple H announced on the July 21 edition of Raw, Lesnar is set to face John Cena at SummerSlam on August 17 for the WWE World Heavyweight Championship.
After the outcry of displeasure that erupted upon Cena's winning of that title at Money In The Bank, smart money might say that Lesnar bringing the championship home would be a more-than fan friendly occurrence.
And for Lesnar, a man who has won at everything he's done, well, a shiny piece of gold is just the price of admission.
This story is sponsored by WWE Network. Catch Brock Lesnar at SummerSlam only on WWE Network, where you can catch all past and future WWE Pay-Per-Views as well as WWE Films.
PREV STORY
Bones to Pick with Black Fedor
NEXT STORY
Brock Lesnar: WWE to UFC and Back Again