Five Quietly Brilliant Contracts of the Free Agent Summer
Not everything across the NBA can be as monumental as LeBron James altering the fate of the known world. The comings and goings of the NBA's biggest names certainly define the broad landscape of the NBA—there is an alternate universe out there where Chris Bosh does sign with the Houston Rockets, and the outcome of every NBA Finals through the end of time is changed.
But when it comes to the specific games that are won and lost, the role players who surround the superstars tend to be the difference between wins and losses.
Here are five of the NBA's smaller free agent signings that I believe make brilliant sense for both the player and team involved. None of these moves made big headlines, and for good reason. But the goal isn't to make big headlines, is it?
1. Josh McRoberts to the Miami Heat
Contract: Four years, $22.6 million (player option for 2017–18)
One of the many subplots to LeBron's return to Cleveland was that McRoberts had just committed to a contract in Miami, supposedly convinced that LeBron would be keeping his talents in South Beach. It seemed like one of the NBA's many journeymen had gotten thoroughly duped by the Association's kingpin.
It would be foolish to say that McRoberts was signed with the intention of "replacing" LeBron James. (It's also foolish to say that McRoberts got the short end of any stick, as he now has long-term security for a contending team in one of the league's most attractive locales.) That's an impossible task, and the Heat knew it, and they looked instead to reinvent their offensive identity. McRoberts will play power forward next to the re-signed Chris Bosh's center in one of the most agile and perimeter-focused frontcourts in NBA history.
Head coach Erik Spoelstra has shown nothing is his brief tenure if not a fearlessness to experiment. It was under Spoelstra's guidance that Bosh transformed from a more traditional low-post scorer and into his present stretch-5 manifestation. Since both Bosh and McRoberts are capable of sinking 3-pointers on one end and then providing stout interior defense on the other, this year's Heat just might be Spoelstra's most creative project yet.
2. Spencer Hawes to the Los Angeles Clippers
Contract: Four years, $22.6 million (player option for 2017–18)
Last summer, Doc Rivers clearly wanted his own stretch-5 upon arriving in Los Angeles. The result was most definitely overwhelming: the Clippers offered a two -year, $2 million contract to...Byron Mullens. Sometimes in the NBA, you really do get what you pay for.
Mullens didn't make it past the trade deadline in Los Angeles, getting sent to the Philadelphia 76ers in February. (Mullens has since declined the second year of his player option and has signed a contract to play in China.) This year, the Clippers were willing to spend big, and that extra investment should pay dividends.
While languishing on the anything-goes rosters in Philly and with the Cleveland Cavaliers, Hawes took the opportunity to showcase his newly minted three-point shot. He's an above-average NBA shooter, not "above average for a big man." He drained 41.6 percent of his 308 deep balls last year, meaning that he is a legitimate perimeter threat.
Hawes won't be appearing in the Clippers' starting lineup, but that doesn't mean he won't play a very essential role on the team. With starting center DeAndre Jordan's infamous free throw woes unchanged, it's not hard to see Hawes playing 20–25 minutes a game, including the closing stretch, taking his man out of the key so Blake Griffin will have room to work.
3. Troy Daniels back to the Houston Rockets
Contract: Two years, $1.7 million
Yes, Daniels was a restricted free agent who ended up resigning with the same team he was on previously. But, as we have seen with the crazy Chandler Parsons saga, just because Daniels was a restricted free agent doesn't mean it was a sure thing that he would return to Houston.
Using their D-League affiliate, the Rio Grande Vipers, as a mad scientist's laboratory, the Rockets took the undrafted Daniels and transformed him into a role player with only one role: shoot the ball. In his 48 games with Rio Grande, Daniels hit five three-pointers per game. By comparison, the highest single-season total in NBA history in that statistic is Stephen Curry's 3.5 3-pointers a game in 2012–13.
Daniels has appeared in five NBA regular season games and four NBA postseason games—and went a combined 20-for-40 behind the arc in those games. By limiting Daniels's focus, the Rockets may be helping him re-write the record books one day.
4. Thabo Sefolosha to the Atlanta Hawks
Contract: Three years, $12 million
Under the direction of San Antonio Spurs alumni Mike Budenholzer, the Hawks have assembled the largest—if not also the most accurate—army of three-point shooters across the league. Headlined by all-time great shooter Kyle Korver, the Hawks have also been making sure that their forwards (Paul Millsap, Mike Scott) and center (Pero Antic) can shoot.
Sefolosha endured a year-long shooting slump last season, eventually falling out of the Oklahoma City Thunder's rotation in playoffs for the first time in his five and a half years with the team. Still, Thabo is just one year removed from consecutive season in which he shot better than 40 percent on three-point attempts. Working in rotation with DeMarre Carroll, the Hawks are one of the few teams with enough defensive prowess to hound opposing superstars for the full 48.
5. Anthony Morrow to the Oklahoma City Thunder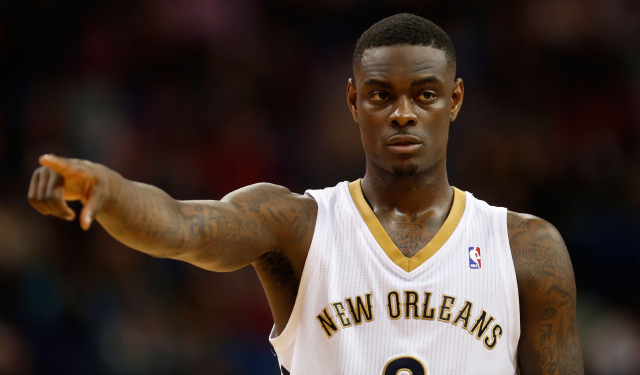 Contract: Three years, $10 million
Just because the Thunder lost Sefolosha doesn't mean they got a downgrade at the position. In fact, I advocated that the Thunder should pursue Morrow way back in June.
Salary information via ShamSports.com
PREV STORY
Kevin Durant: Gone from Team USA
NEXT STORY
This Summer, Spurs Go Back Into "Lurk Mode"