Contenders?
Again: Contenders?
But small market teams aren't supposed to be contenders, are they?
They are in Crashing the Boards World! Week 2 of Crashing the Boards is dedicated to the very teams we wanted to ignore in this space: The ones with a real chance to win a championship. All we need is a new name. Careless shot chucking? That'll do.
King George
Say hello to America's next top small forward. Paul George has improved so dramatically in Year 4 that right now it is he, not Crashing the Boards villain LeBron James, that deserves top billing in this very young MVP race. Take that, David Stern, we're well on our way to a middle-America dominated awards season.
That is partially what makes George so endearing. Our last six MVPs have all either been LeBron or big market frauds (Kobe stole the award from Chris Paul, and Derrick Rose was so utterly humiliated in the playoffs that he had to fake an injury last year just to avoid another spanking at the hands of LeBron).
The post-decision NBA climate has 10 of the league's 12 highest paid players playing in Los Angeles, Miami or New York. Stars force trades to big markets faster than I can complain about it. But Paul George is currently leading our rally to take basketball back in the name of everyone else.
And so, I declare King George the undisputed ruler of America. Nobody tell 1776.
The Thunder from Down Under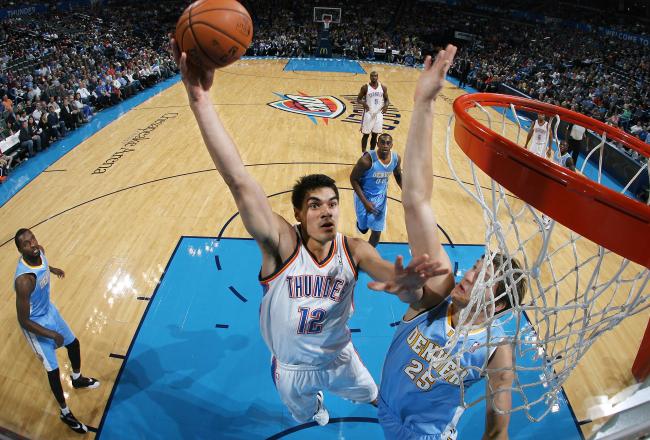 Australia's best basketball player? Andrew Bogut. In fact, he rounds out the entire top five.
But now we have a new Aussie to admire (even if he is from New Zealand. They're basically the same thing). That would be Oklahoma City rookie Steven Adams, the guy I affectionately referred to in my draft diary as "Not Ben McLemore."
OKC's new kind of almost sorta starting center put up 17-10 against Detroit's vaunted front court on Friday night, but more importantly played 31 minutes to Kendrick Perkins' 17. This is critical development because Kendrick Perkins is essentially one of the rocks at Stonehenge at this point. Or Tahiti. Which is the one where the rocks kind of look like faces? That one.
But more importantly than the more importantly? Adams has a chance to swing the historically awful James Harden trade at least somewhat closer to center. That trade goes from franchise defining to just bad if Adams becomes a consistent starting center (looking likely) and Jeremy Lamb evolves into a passable third guard (…we'll get back to you).
Time to split?
San Antonio's five minutes leaders so far? Tim Duncan, Tony Parker, Boris Diaw, Kawhi Leonard, Manu Ginobili. Which one of these is not like the others?
San Antonio's $36 million man Tiago Splitter can't find the court as much as a walking Burger King ad. This makes sense to everyone who watched the Finals, when Splitter couldn't even get on the court against Miami. The Spurs don't miss often on personnel moves, but it's starting to look like they missed on this one.
So the real question is this: is it time for the Spurs to shop their seven-footer around? The answer is yes in the eyes of this broadcaster. A Spurs pedigree makes you 20% more appealing to other teams whether you're a player, a coach or an executive. Splitter could be exchanged for a real asset. Someone who could actually, you know, step on the court against the Heat.
Minnesota? MINNESOTA!
Do I love watching Kevin Love? I think you know the answer to that.
Is Nikola Pekovic pecking away at the reputation Europeans have for being soft? You're damn right he is!
Is Ricky Rubio a ruby among basketball players? Gimme a break, that's a much tougher pun.
Coming into the season there was a very clearly defined five-team hierarchy in the West. San Antonio, OKC, Houston, the Clippers and Warriors. Team six is the Timberwolves. In fact, team six might be the Clippers. And team five the Warriors. And team four—no, let's not get ahead of ourselves.
But the Wolves are very real contenders in the West. Before you argue, consider the following: Who really has a way of stopping Kevin Love? Golden State? With Andrew Bogut one stiff breeze away from a broken bone? How about the Clippers? The team that leads the league in points allowed is stopping this offense? OKC? With a rookie center? I could go on and on. We're ending our first ever contenders edition with the inclusion of our newest small-market marvel: the Minnesota Timberwolves.