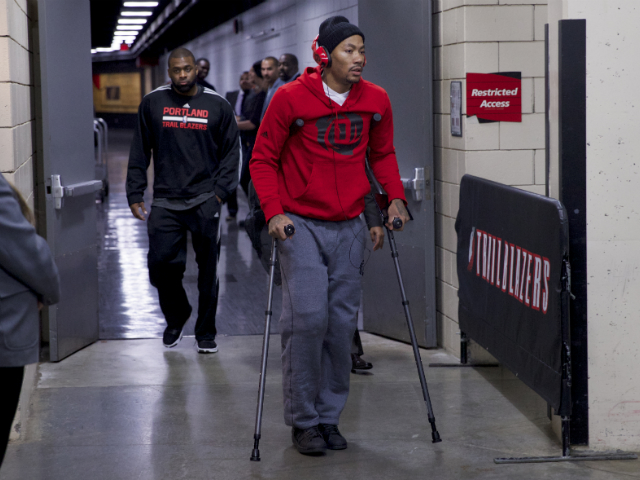 Poor Derrick Rose can't catch a break. Only one year removed from his left ACL tear, Rose tore the meniscus in his right knee on November 22 while his Chicago Bulls played the Portland Trail Blazers. The superstar point guard will miss the remainder of the season after undergoing a successful surgery by Dr. Brian Cole, the same man who repaired Rose's ACL in 2012. The rehab associated with this injury isn't nearly as bad as a torn ACL, but nonetheless, it will cost Rose and the Chicago Bulls a great deal.
Each knee has two crescent shaped menisci that act as support for the femur (thigh bone) and tibia (shin bone). A torn meniscus can be caused by aggressive twisting or rotating of the knee. It leads to immediate discomfort, pain and swelling of the knee. As one of the most common knee related injuries, a torn meniscus can be treated with or without surgery.
Unfortunately for Rose, he needed surgery. It is up to the doctor's discretion as to how he or she would like to preform the surgery. The torn meniscus can either be removed completely or repaired by transplanting it from a donor. The new meniscus is tightly held together for biological healing to occur. In Rose's case, his meniscus was removed and repaired. While many doctors prefer that method of surgery, the rehabilitation is longer and more intensive.
Rehab for a torn and surgically-repaired meniscus is anywhere from three to six months. Like every form of rehabilitation, the main goal is for the injured or surgically repaired area to restore the proper range of motion for normal physical activity. Therapy consists of exercises that not only stretch but strengthen the meniscus, including squats, hamstring curls, and straight leg quad raises.
While the rehab is fairly easily to complete, in the end it is up to Rose to know when he will be able to return to the court. Rose received much criticism for not returning to play during the playoffs last season even though he was partaking in practice.
As for the Bulls, their season isn't completely finished. I don't know when I've seen the Eastern conference as bad as it is now. With only two consistent teams in the Miami Heat and the Indiana Pacers, the Bulls have a decent chance in nabbing a lower level seed based on the talent they have left on the floor with Carlos Boozer, Luol Deng and company.
This is the injury that makes one wonder if the Bulls are going to start to look in a new direction in terms of a new franchise player.
The Bulls can throw their championship dreams out the window (for now) because superstars win championships, but Chicago can have a fairly successful season like they did last year without Rose. The passing game is much more fluid without Rose on the court. Their offense produces just over 98 points per every 100 possessions offensively, and they play a very physical defense, with 84.1 points allowed per every 100 possessions.
This is the injury that makes one wonder if the Bulls are going to start to look in a new direction in terms of a new franchise player. I can't help but draw comparisons of Derrick Rose and Brandon Roy.
I worry that after his second major knee surgery Rose will lose the explosiveness and overall talent that Roy lost when his knees began to deteriorate. By the time Rose comes back and he is not the player that he once was, the Bulls need to look to trade for an effective point guard to stabilize the damage of Rose's absence and draft a point guard that has the potential to become a superstar.
Derrick Rose is a superstar in the league that has some pretty bad luck in his knees. Yes the injury sucks, and yes it will be a tough road ahead for him. But he is a tough player that knows what he wants and how to achieve it. He will come back strong with the hopes of contending in the Eastern Conference.