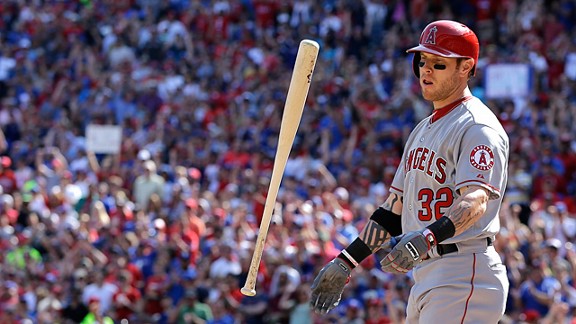 The Los Angeles Angels (no longer of Anaheim) are, without hyperbole, a unique team.
They have a home-grown veteran core of Jered Weaver, Howie Kendrick, and Erick Aybar. They have one of the best players in baseball in Mike Trout. In each of the past two winters the team signed one of the biggest free agents on the market in Albert Pujols and Josh Hamilton, respectively.
The Angels also have one of the most well-regarded managers in baseball with Mike Scioscia at the helm, a GM in Jerry Dipoto who is known for making bold moves, and an owner in Arte Moreno who is not afraid to spend money.
Yet the Halos won just 78 games in 2013 a year after their "disappointing" 89-73 2012 season.
Bullpen
When the Angels were going right, in the early-to-mid 2000s, the bullpen was a strength Mike Scioscia could turn to at will. Scot Shields, Brendan Donnelly, and K-Rod shorted games and gave the Angels a set of weapons in the late innings few teams could match.
For the 2013 season, the Angels signed former Philly Ryan Madson to take over ninth inning duties. Madson, who missed all of the 2012 season while undergoing Tommy John surgery, unfortunately never recovered while on the Angels either, and missed all of 2013 as well.
When the Angels were going right, in the early-to-mid 2000s, the bullpen was a strength Mike Scioscia could turn to at will.
Ernesto Frieri, acquired from the San Diego Padres during the 2012 season, pitched 54.1 superb innings that year, striking out 80 and recording 23 saves. With Madson unavailable this year, he resumed closing duties in 2013. His 3.80 ERA was less impressive than the 2.32 figure he put up the season prior, but he saved 37 games and struck out 12.8 batters per nine innings.
Scott Downs put up a 2.10 ERA in parts of three seasons with the Angels, including a 1.84 in 29.1 innings this season before he was traded to the Braves.
Garrett Richards made 17 starts and 30 relief appearances for a combined 4.16 ERA. His ERA, strikeout rate, and strikeout to walk ratio were almost the same regardless of his role. While he wasn't great, Richards gave the Angels some consistency and filled the role of swingman admirably.
At 30 years old, with all of 12 previous major league games under his belt entering the season, Dane De La Rosa had something of a breakout year. In 75 games he put up an ERA of 2.86 while striking out 2.32 batters for every walk he issued. At Triple A the last two seasons, De La Rosa struck out over 10 batters per nine innings and a 2.99 ERA. Oddly enough, De La Rosa was acquired from the Tampa Bay Rays, who are known for uncovering effective relief pitching out of thin air.
Rotation
During the winter, the Angels, presumably looking to trim salary a bit after signing Josh Hamilton, parted ways with Dan Haren and Ervin Santana. While neither pitcher had lived up to their career norms in 2012, for a large market team without much depth after their front two, the decision was questionable given that both were set to become free agents after 2013.
Jered Weaver has been the foundation of the Angels' rotation for several seasons. After a slow start, a trip to the disabled list, and a battle with declining velocity, he was this year too. Weaver was the only starter with an ERA under 3.30 or a WHIP under 1.3. How he adjusts to reduced velocity going forward is an open question, but Weaver showed signs this year that he can evolve as a pitcher.
In the winter of 2011, in addition to Albert Pujols, the Angels signed C.J. Wilson as someone who could play the role of number two behind Weaver.
So far, while his two seasons in Anaheim haven't quite lived up to expectations, Wilson has performed as such. A 3.39 ERA, eight strikeouts per nine innings — a mark which lead the rotation, and a fourth straight 200 inning campaign were enough to help keep the Angels going every fifth day.
Jerome Williams, Jason Vargas, and Joe Blanton each had a few moments, but were largely the back-end guys they appeared to be.
Tommy Hansen, acquired from the Atlanta Braves for former closer Jordan Walden, tossed just 73 innings and wasn't sharp when he was able to take the mound.
Offense
Offensively the Angels are nothing like the Mike Scioscia teams of the past: only two players had double-digit steals and just one, Mike Trout, swiped over twenty bags. On the other side, six Angels had double-digit home runs and five regulars posted OBPs of at least .330.
Twenty-twelve American League Rookie of the Year Mike Trout, the American League MVP runner-up, and potential AL MVP this year, was great again, showing what one of the most talented young players in history can do.
His .323/.432/.557 set the pace, leading the Angels in all three categories. Trout was the only regular with an OPS greater than .775, the mark held by Howie Kendrick.
Hamilton, the former wunderkind who had a golden second act in Texas, was a flop during his first year in California.
Incredibly, his overall line was better than last year's .326/.399/.564. While his home runs and steals were down a bit, adding twelve doubles and leading the league in runs scored for the second straight season made up for it.
However, even Mike Trout can't do it alone. Which takes us to Josh Hamilton. Hamilton, the former wunderkind who had a golden second act in Texas, was a flop during his first year in California.
Signed for five-years $133 million, the club expected more than a .250/.307/.432 line and 21 homers. Combined with his .245/.322/.487 line from June 1, 2012 until the end of the season, and Hamilton has produced at a level below superstar for a while now.
Former superstar Albert Pujols, who was limited to DH duties for part of the season while battling injuries, hit just .258/.330/.437 (all career lows) during his second year in Anaheim. It was the first year in his career he didn't receive MVP votes.
Mark Trumbo crushed 34 home runs, but with a .294 onbase percentage was still unable to clear the .800 OPS mark.
Peter Bourjos, who could have helped solidify center field, add some speed, and move one of the sub-par corner bats for Mike Trout, had a lost season spent mostly on the disabled list.
Conclusion
The Angels need to find their identity. Much like the Red Sox in 2011-2012, the Angels signed some players to large contracts and found that things weren't working out as they planned.
Unlike the Red Sox, no one signed to big money is tradable, unlike Adrian Gonzalez and Carl Crawford, who both appeared to be "change of scenery guys," which pretty much worked out for the Dodgers. Either find help in free agency for the rotation or try to move players with some value, like Kendrick or Aybar, for help in another area, maybe with a bad contract attached.
Hank Conger did begin to break through from the minors, but incumbent catcher Chris Iannetta was far from the worst problem facing the team.
The team needs a number three pitcher who can bridge the gap between the top two and the bottom two. Preferably they need two of these guys: Jerome Williams just isn't enough.
Grant Green, acquired in the Alberto Callaspo trade, could find a home at third base, if Pujols is healthy enough to return to first and hide Trumbo's glove at DH.
The Angels did manage to move Vernon Wells to the Yankees, so the season wasn't a complete loss.
See related posts:
Did the Philadelphia Phillies Have a Successful Season?
Did the Washington Nationals Have a Successful Season?
Did the Kansas City Royals Have a Successful Season?
Did the Baltimore Orioles Have a Successful Season?