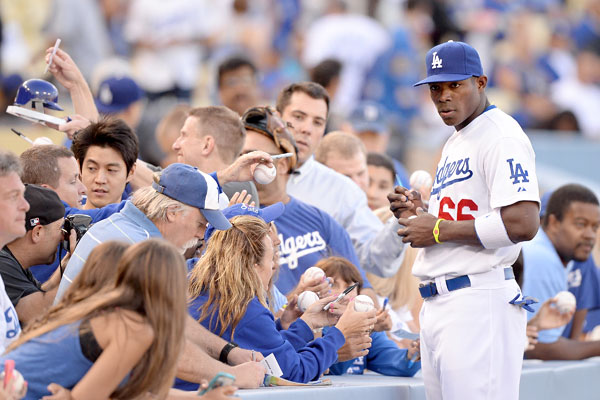 I would like to announce that I am calling a MLB fan-only meeting. I have to make a complaint about how the majority of us fans have become so enthralled in Puigmania that we have already decided that Yasiel Puig is the next best player based off of a minuscule sample of 151 at-bats.
Now, before any of you Puigmaniacs jump the gun once again on this article and skip down to the comments to let me know what a dumb, moronic, boring fool (in probably harsher terms than that) I am, hear me out.
I also turn Sportscenter on in hopes of catching a glimpse of what Puig did the night before. There is no denying what he is doing is unbelievable and there is nothing wrong with enjoying it, but the problem arises when we anoint a guy as the next big thing after only 151 at-bats.
In 2005, there was a similar rookie who took us all by storm. Sports Illustrated put him on its cover with the headline, "The Natural." In his first month, he batted .413 and hit 6 home runs. His name? Jeff Francoeur.
Yes, the same Jeff Francoeur who was released by the Kansas City Royals this season was Yasiel Puig before Yasiel Puig. To be fair, though, Puig has put up better numbers for a longer amount of time than Francoeur, but there are definite similarities between the two players' hot starts.
Through Francoeur's first two months, which amounts to 155 at-bats, he hit 10 home runs and 31 RBI, while maintaining a .362 average. In Puig's first 151 at-bats, he has hit 8 home runs and 19 RBI with an astounding .391 average.
But the major statistic similarity between the two hitters are their low walk totals. Puig has walked just 7 times, while Francoeur walked 6 times through his first 155 at-bats.
The common characteristic here is a lack of plate discipline. But what should scare Puig fans is that he has been even more reckless with the bat than Francoeur was in all of 2005. Puig's O-Swing percentage, which measures how many pitches outside of the strike zone a batter swings at, is 41.1 percent, while Francoeur's was only 34.9 percent.
But what is important is that Francoeur's O-Swing percentage has increased as his career has gone on, which could explain his lack of production in recent years. Maybe Puig will gain a little more plate discipline as he gains more experience. Or maybe he won't and it won't matter because he really is that good. Vladimir Gurrero was famous for disregarding the strike zone and he is arguably a future Hall of Famer.
But the point of this article is not to debate whether Puig will continue his hot streak all season or for the rest of his career. There is no doubt that a regression will occur at some point. He is not going to hit .400 every year of his career, but he could definitely become the next best hitter for years to come.
My point is to caution fans from overhyping young players who run into success, no matter how big it might be. We have seen players have magical first seasons and then once they get more exposure by scouts and coaches, they regress back to mediocre.
We have also seen young players like Mike Trout, who took the league by storm in their first season and continue to dominate in their next year. So, I'm not saying that there is no way that Puig and future young studs will continue their success after their first season, but why don't we give them at least two seasons before we decide their status in the league?
We aren't uneducated NBA and NFL fans who anoint stars before they even touch the field or court. We are better than this. So, all I ask is that we give Puig until his sophomore campaign before we figure out where he ranks among the league's most talented.
If you have any other complaints about the MLB, leave them in the comments section below. Otherwise, meeting adjourned.
By: Matt Levine
Twitter: @Matt_TFJ