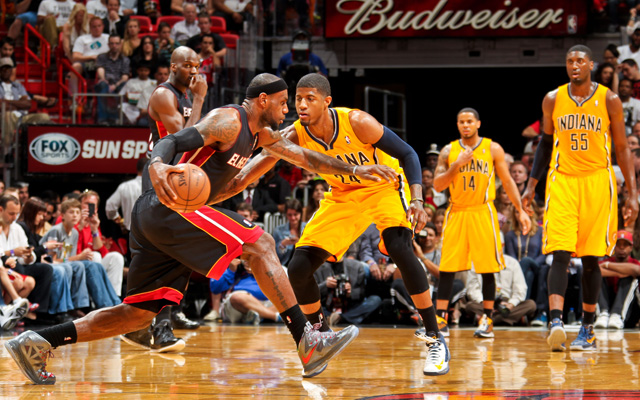 Will LeBron James and the Heat drive by Paul George and the Pacers? (Credit)
The Miami Heat have LeBron James — the best basketball player in the world, the league's most valuable player for two years in a row and four out of five, and one of the all-time greatest to ever play the game. Along with James, Miami has his best friend: Dwyane Wade — the Finals MVP in 2006, two time NBA Champion, and a top-ten player in the league.
Who do the Indiana Pacers have? Paul George, a 23 year-old rising star whose only accolade to date was winning this season's Most Improved Player. Roy Hibbert is the other "star" (if you could call it that) on the team, who stands at 7'2" and has given opposing offenses nightmares all season long. If you don't believe that, ask Carmelo Anthony and the rest of the New York Knicks.
So, as these two teams prepare to face off in the Eastern Conference Finals, why should the Heat have anything to worry about with Indiana? It's a simple, one word answer: toughness.
There is something about toughness that just gets to Miami. The Chicago Bulls ended the Heat's 27 game winning streak, the second longest span in NBA history, and stole a game from them in the second round of the postseason before dropping four straight. Chicago seems to have Miami's number despite being significantly less talented.
The Pacers are essentially a better version of the Bulls — at least without Derrick Rose. They won more games (49 to 45), surrendered less points (90.7 per game to 92.9), and come into the game far healthier than the Bulls have been all year, with only George Hill's post-concussion symptoms to worry about.
Last season when the Pacers and the Heat met in the Conference Semifinals, there were more elbows, hard fouls, and cheap shots than I've seen in any other playoff series in my life. This season will be no different: there is no love lost between these two teams. Frank Vogel and James exchanged words through the media, with James thinking that the Pacers coach was disrespecting his team in dismissing them as the next team that's in Indiana's path.
For Indiana to compete in this series, there is going to have to be a lot more than that. They are going to have to push LeBron around, they are going to have to challenge Dwyane Wade's health, and they are going to have to force Miami to play their way.
Despite the toughness and grit of Indiana that has gotten them this far, the Heat may very well be too good. Through two rounds, they have only lost once, and have been nearly unstoppable since the start of their 27-game winning streak. At a certain point, talent just tends to win out.
They may be too good to lose in the Finals, too, as they are the heavy favorites to win their second straight NBA championship.
This series will be as mental as it is physical. The Pacers need to believe that they can beat the Heat if they are to actually do it. Furthermore, they must get into the heads of James and Wade. They have to make them fearful of driving the lane because if they do, they are going to get hit. Indiana's ability to do these things will dictate how far they get in this series.
Prediction: Heat in six. The Bulls stole one in round two, and the Pacers are better than the Bulls, so I'll give them two victories in this series. Nonetheless, the Heat will continue its amazing run led by LBJ, who will go down as one of the greatest to play the game.
By: Thomas Duffy