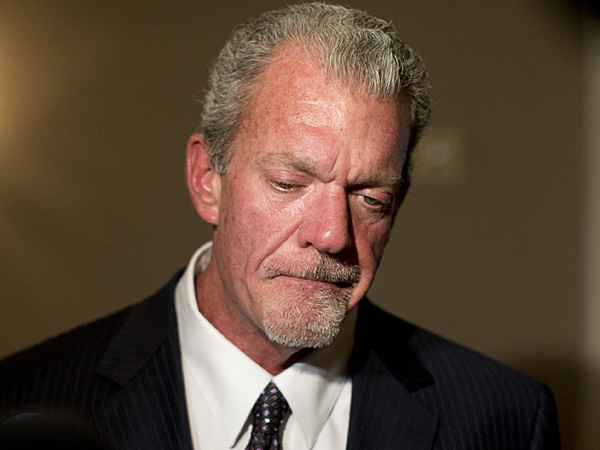 We're back, from the operating table, that is. Well, someone had to be crazy enough to require brain surgery after picking my Albany Great Danes to win it all on one of their brackets.
That would be me, OK? Get over it.
But in this bracket-ology edition of Juice This, we discuss NFL free agency, pending congressional NFL legislation, and the newest NFL hot-button troubled star, Robert Irsay.
OK, take out the word "star" and just leave it at "troubled."
IN-AGAIN, OUT-AGAIN, FINNEGAN
With all due respect to the late, great sportscaster Les Keiter and one of his signature basketball calls (in again/out again, Finnegan), what in creation are the Miami Dolphins hoping to accomplish signing Cortland Finnegan? No, really, what?
Is he Richie Incognito's brother-in-law or something? Do they really need a stand-up, gentlemanly, prestigious presence like that in the locker room? This is the team that has let Nick (man-of-my-word) Saban come and go. This is a franchise that let Dan Marino play for the team but not with the team. This is a team that brought in stand-up citizen Reggie Bush.
This is the team with the character of Wayne Huizenga, Eugene "Mercury" (call-me-when-you're-on-my-block) Morris and not one but two No-Name Defenses.
And let's face it, Cortland Finnegan is no name to bring in.
ANTI-GAY IN THE NFL. NO, REALLY
So this guy Jack Burkman, a self-described professional lobbyist but really a professional idiot, is trying to push through a bill in Congress that says:
RESOLVED by the U.S. House of Representatives of the United States of America, that the following article is proposed as federal law under the jurisdiction of the United States of America, enforceable by Executive action.
BE it enacted by the House of Representatives and by the Senate of the United States of America in Congress assembled, that:
Section 1. The National Football League and all teams thereof are hereby prohibited from employing self-declared homosexual football players. This prohibition shall only apply in cases where a football player has openly declared himself to be a homosexual.
He wants there to be multi-million-dollar fines therefore.
Good luck with that, Jack. And I thought Richie Incognito was the worst thing I'd see hit the NFL in my lifetime. There really is no end to idiocy in America.
YOU SAY, I SAY, WE ALL SAY, IRSAY
Jim Irsay's Twitter account has gone silent. His pronouncements of football insight and sports brilliance have stopped. His self-declared anointment as the Godfather of All Things Football Wisdom are no more.
He still has Andrew Luck. He still has a perennial playoff contender. He still has a beautiful stadium that hosted a Super Bowl and will host a Final Four. He is the Jerry Jones of the Midwest, or at least Indiana (is that good?).
And now, despite all the brilliance, all the ironclad decision-making, all the "love" for the now-departed Peyton Manning and all the turnover on his roster that has somehow paid off, he also is building a criminal profile for himself.
NFL players must live up to Roger Goodell's code of conduct and morals clauses in their own contracts.