Does Mario Balotelli live in our world? Of course, to some extent, he must. After all, he's a soccer player currently residing in Serie A with AC Milan, not to mention the potential new hope for the regressing, aging, and suddenly ordinary Italian national team.
He's a jokester, a character, and any other clichés one might think to label him. He's also dealt with a lot on and off the pitch because people are moronic. On a professional level, however, he's only 23 years old and possesses an incredible amount of ability with a soccer ball at his feet. So, who is the real Balotelli, and how great could he become?
A Never-Ending Story
Let's focus on something depressing for a moment: Racism exists—always has, likely always will. Balotelli is no stranger to this because apparently being a black Italian is simply unacceptable. I could write a short story chronicling his experiences, but instead here's two that should do more than enough to irritate you:
May 2013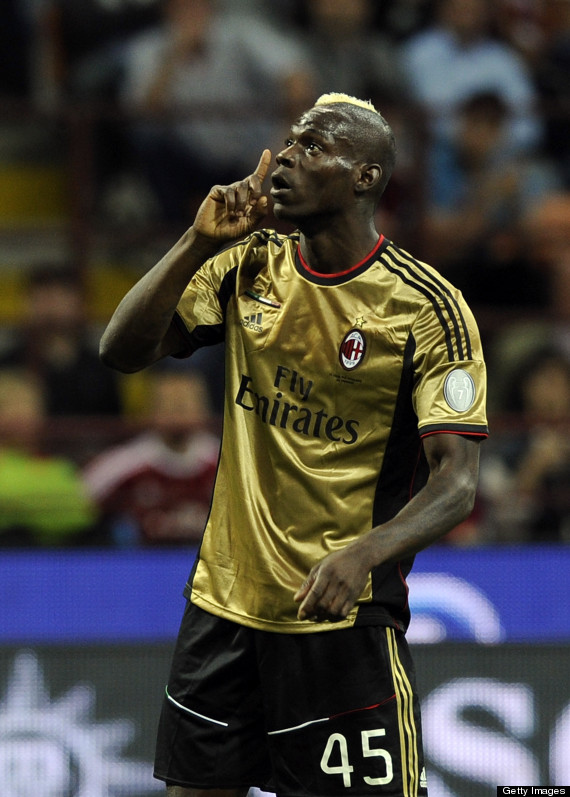 It was just your ordinary Sunday match day in Serie A, with AC Milan taking on Roma where a win would mean Champions League qualification for Balotelli's side. Throughout the first half, though, racist chants rained down on the forward. In response, Balotelli put his finger to his lips, motioning for the despicable fans to quiet themselves. Of course, that didn't work, but what else could he have rationally done?
Despite numerous announcements over the PA system explaining that discrimination of any kind would not be tolerated, the chants carried on. It wasn't until the 48th minute that referee Gianluca Rocchi brought the match to a halt by picking up the ball and tucking it under his arm. The match was stopped for less than two minutes, and even after it resumed Balotelli still dealt with abuse.
Before you read the next blurb, keep in mind that this man also plays for Italy.
World Cup Training
This one ranks as my personal favorite in things I loathe. Just before the start of the World Cup in Brazil, Balotelli was on the receiving end of more racial abuse. From his own supporters.
While training with his national team, "Balotelli, who was less than 50 metres away when the insults were hurled," immediately told his teammates of the remarks being made. Eventually the police were called and the crowds vocalizing themselves dispersed. The article goes on to note that he "was shocked to hear at least one fan shout out 'F***ing N****' as he took part in a sprinting exercise."
The saddest thing about that is it is not shocking in the slightest. Fellow Italian Ciro Immobile said it best afterward: "In 2014, we shouldn't need to be talking about racism again." How right you are, sir—and how sad it is that this hasn't gone away.
Club Accomplishments, National Team Potential
Here's something that could scare some of you, depending on how you rate Balotelli as a player. He's only 23 years old, soon to be 24 in less than two weeks. He's played in the Premier League with Manchester City, but the majority of his career has been spent in Serie A with both Inter and AC Milan.
In 2006 he was sold to Inter for just €360,000, where over the course of the next three years he went on to score 20 goals and tally 11 assists in 59 league appearances. Only a modest return, sure, but one that saw him sold in the summer of 2010 to Manchester City for €29.5 million. He lasted two and a half seasons there, again recording 20 goals while tallying only four assists this time in 54 appearances.
Finally, he was sold off in winter of 2013 to his current club of AC Milan for a cut-rate price of €20 million. In two seasons since his departure from the Premier League, the forward has registered double-digit goals in consecutive seasons (12, 14) and a total of 10 assists in 43 league appearances.
Yes, those statistics coupled with some other silly factors don't slap you in the face to say "He's a must buy!" but it's simple to spot that he has improved (even just slightly) every season he's played. Moments like the following help his case as well. Remember, current or aspiring defenders, always close down on players with this kind of ability:
Yeah, he does that.
On another note, our own Colburn Trutter took a look at Italy's national team, questioning whether or not they are fading as a soccer power. Recent results would suggest just that, which brings me to my next point: Balotelli could and surely should help usher in the new era of Italian soccer.
He'll be only 25 years old at the next Euro, and 27 for the 2018 World Cup in Russia.
He had a lousy World Cup in Brazil, but that is no different from the rest of his team. Four years could do wonders for the kid. If there is one player that Italy needs to step up over the next four years, it is Balotelli. He has all of the potential to do so, but of course the answer is still to come.
Personality and Value Moving Forward
Balotelli is still young, still developing his talents. He likes to enjoy himself—in the eyes of some, maybe too much. But what some see as being out of his mind, I see as harmless fun. It's not always great to be off in your own little world, but sometimes it's necessary.
Here's a goldmine of such instances from the Italian—with headlines like "Mario Balotelli interviews Mario Balotelli before the World Cup," "Mario Balotelli posts bizarre boxing video on social media," and finally, an attached photo of the attacker about to playfully slap legend Andrea Pirlo upside his ear while the man is eating.
He's fun; seems like a cool guy to hang out with. But don't take my word for it, just watch this Instagram video of him ironing his shirt while reading Zlatan Ibrahimovic's book. He even gives us a little dance at the end. Then as recently as Monday, Balotelli posed with his arms crossed for a selfie with two fans who invaded the pitch as Milan took on City in a pre-season friendly.
But at the end of the day, all that matters is what kind of impact he can have on the pitch, right? For now I see him staying in Italy. Perhaps after this season, he makes a move back to England. We'll know soon if he's ready for that level of competition again. You saw in the video above that he was reading Zlatan's book. Well, with the impressive way he's become known to score goals, who knows? Maybe one day he'll get to that level.
Now that's asking entirely too much of someone, of course, and I would never dare say he is the next Zlatan. In fact, I'm sure the current PSG superstar has said himself that nobody is the next him. If I close my eyes, I can hear it.
But I will tell you what Balotelli currently is: He's talented, he's young and still developing, he cares about his performances, he's a character, and he's confident. But maybe his Milan teammate Stephan El Shaarawy said it best:
"He has a lot of desire to show what he can do and get back to being a champion and he has all the qualities to succeed. He's very important to us."
He certainly has the tools, but it's up to him now more than ever to put them all to use.
Statistics courtesy of Transfermarkt