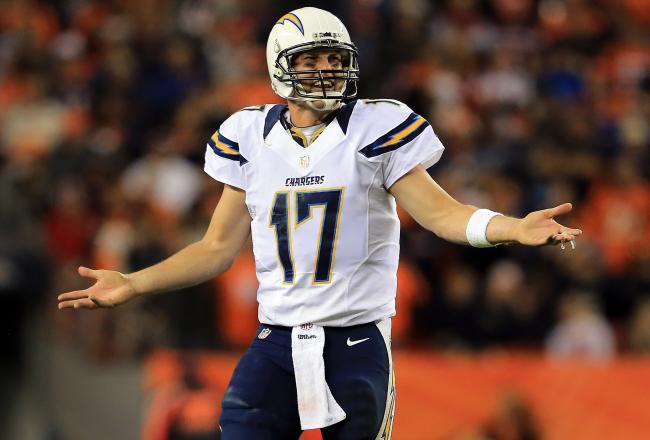 What do I have to do to get some blocking? (Doug Pensinger/Getty Images)
For the past three seasons, the San Diego Chargers have not been bad. The only problem is that they have not been good, either. They have been riding the middle of the pack, which is exemplified by their 2012 season, where they beat all the bad teams and lost to all of the good teams. Unfortunately for them, they played more good teams than bad teams, which led to their 7-9 record.
After three straight seasons of blowing it in the playoffs between 2007 and 2009 and then going into the aforementioned period of mediocrity, the ownership finally decided it was time to fire both Norv Turner and general manager A.J. Smith. Those two magicians pulled off better tricks by keeping their jobs for so long than anything David Blaine could execute. Former Denver Broncos offensive coordinator Mike McCoy replaced Turner as head coach. With the large number of important free agents the Chargers have, McCoy has a lot on his plate in his first offseason. Shall we dig in?
With the Chargers' offense, there are a lot of problems, but most of them can be attributed to their putrid offensive line. We have seen a significant regression from Philip Rivers and I'm sure all of the pro-Rivers Chargers fans are going to blame that on the offensive line. I'm really not sure what the deal is with Rivers, but there is no denying the line needs some repairs. Their biggest line problems can be credited to tackles Jeromey Clary and Jared Gaither. The chances of them both being back next season are about as slim as the University of Kentucky repeating in March (It's all about next season, fellow Cats fans).
Their 1st round pick MUST be used on an offensive tackle. And with A.J. Smith out of the picture, that might actually happen. They should also look into free agency to pick up a top-notch, experienced tackle. It is highly likely Jermon Bushrod will be available because of the Saints' cap problems if the Chargers are willing to pay the big bucks. Those two moves could solidify their offensive line problems in one offseason.
Believe it or not, there is more to do on their line, but this time it is retaining some of their own. Guards Louis Vasquez and Tyronne Green are both free agents and important parts of the line. The Chargers need to do everything they can to re-sign them, especially if they do let Clary and Gaither go because that would mean they would have to sign four new offensive line starters. That's not easy to do.
Next up is the running back position. Ryan Mathews is injured more than he's healthy so they need to get a legitimate replacement for when he gets hurt next season. They should use a middle round pick on a running back based on the fact that we have seen many middle round running back draft picks emerge in the past few seasons.
On that same note, San Diego should think about drafting a project at the quarterback position in the middle rounds in case Rivers really is washed up. It's too early to use a high draft pick, but drafting a project may be a good idea.
Another reason Rivers has not looked like the quarterback of old is because he has no number one wide receiver anymore. Danario Alexander was impressive in spots, but he also had trouble staying on the field. The Chargers should look into free agency to properly replace Vincent Jackson. There will potentially be a great deal of talented receivers in free agency and it would be interesting if they got Rivers a new toy. He would be like the first kid to get the Xbox 360 when we were younger if the Chargers went deep in their pockets and signed Greg Jennings, Dwayne Bowe, or even Mike Wallace.
Unfortunately, the defense has a multitude of problems, as well. They first need to tend to their secondary. At cornerback, Quentin Jammer and Antoine Cason are free agents and neither of them necessarily needs to be re-signed. Jammer is turning 100-years-old in June and Cason could easily be replaced in free agency. Drafting a cornerback with their second round pick would be a good idea, too.
If Jammer is turning 100, inside linebacker Takeo Spikes is already 200. How long has he been in the league? Quick sidebar: Takeo Spikes has the biggest neck I have ever seen (PHOTO of Spikes' neck). Although his neck is the biggest in the league, his talent is far from it. Given that, totaled with his age of 200, he is not worth the salary cap damage he will cause. They can easily replace him through free agency.
It's funny to think that the Chargers came in second in the AFC West considering how many problems they have. Oh, boy, I can't wait to get to the rest of these teams. Hey Chargers fans, at least Norv and A.J. are gone!
Possible Free Agents:
RB Ronnie Brown
RB Curtis Brinkley
RB Jackie Battle (RFA)
WR Danario Alexander (RFA)
WR Michael Spurlock
WR Seyi Ajirotutu (RFA)
TE Dante Rosario
OL Louis Vasquez
OL Tyronne Green
OL Rex Hadnot
DL Shaun Phillips
LB Demorrio Williams
CB Quentin Jammer
CB Antoine Cason
CB Chris Carr
S Corey Lynch
K Nick Novak
KR Richard Goodman (RFA)
Draft Picks:
1st Round — #11— Eric Fisher, OT, Central Michigan — We have already gone over how badly the Chargers need an offensive tackle and Fisher is one of the best tackle prospects in the draft. You know if a lineman projected to go this high is from a smaller school like Central Michigan, he has to be extremely polished and fundamentally sound. According to this article from Pro Football Weekly, his coach at CMU has also raved about Fisher's mean streak, which is an extremely important attribute to have as a lineman of any kind. The Chargers would be nuts to pass on this guy.
2nd Round
3rd Round
4th Round
5th Round
6th Round
7th Round
By: Matt Levine