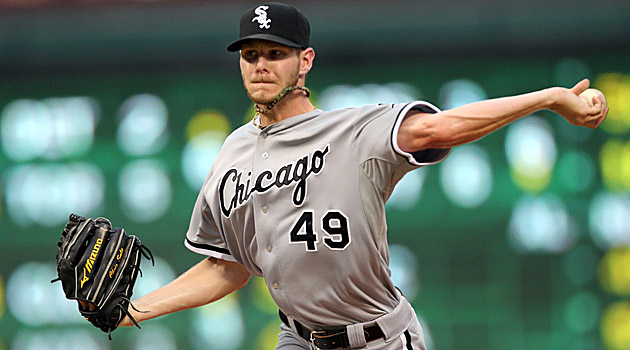 Continuing on with our 'Sign or Trade' feature, we stay in Chicago to look at, you guessed it – another starting pitcher. Only this time we aren't discussing the Cubs, but rather the Chicago White Sox and their ace Chris Sale.
I can't find anything on the surface to dislike about Sale. He hasn't had one bad season in his four major league seasons, he's left-handed, and he's only 24 years old. Unfortunately, he suffers from not playing for a contender.
He plays for a White Sox team that won just 63 games this past season. More importantly, he plays for a team coming off their worst 162-game stretch since his debut; a team that looks further and further away from a playoff appearance as time moves on.
Here's the catch: Sale isn't eligible to become a free agent before 2018. Currently, he's set to make $3.5MM in 2014, $6MM in 2015, and $9.15MM in 2016 before jumping up to $12MM in 2017 and $12.5MM in 2018.
For a player with his production thus far, calling that contract a steal is an understatement. With that in mind, think of the value Chicago could acquire in return.
Chris Sale by the numbers
Like Jeff Samardzija, Sale has only been a starting pitcher for his previous two seasons. That's where the similarities between the two end, as Sale is just over four years younger than Samardzija, is left-handed, and is a better pitcher. Oh, but they do both play for a Chicago sports team, so there's that.
As I did with Samardzija, I would like to go back and compare Sale's numbers as a reliever to those as a starter. Between the 2010-2011 seasons, Sale made 79 appearances – all in relief. He managed to post ERA/ERA-/FIP- numbers of 2.36/55/69 over roughly 94 innings of work. More impressively, his strikeout rate to walk rate in that time was 31.1% to 10.2%.
With just over three times the amount of innings worked in 2011 compared to 2010 (71 to 23), Sale's numbers expectantly took a slight hit. His ERA/ERA-/FIP- increased from 1.93/44/62 in 2010 to 2.79/66/75 in 2011 – although still very respectable as a relief pitcher. Due to just 23 innings of work in 2010, his strikeout rate of 34.8% was slightly inflated. His mark of 27.4% is fairly accurate when compared to his numbers as a starter, but we'll get to that.
Let's jump to 2012 and 2013, seasons in which Sale made a combined 59 starts. His numbers between the two stand at a respectable 3.06/73/77, with a strikeout/walk rate of 25.5%/5.95%. And while his strikeout per nine innings was higher as a reliever than it is as a starter – 11.2 to 9.3 – I'll gladly take his decreased walk rate per nine innings as a starter – 2.2 compared to 3.7.
Were there any staggering differences between his 2012 and 2013 seasons? To put it simply: no. Sale's numbers in 2012 stood at 3.05/72/76 with a strikeout/walk rate of 24.9% to 6.6%. His 2013 numbers stood at an eerily similar 3.07/74/77 with a strikeout/walk rate of 26.1% to 5.3%. He did get credited with 14 losses (and 11 wins) in 2013, so that's all you need to know about that statistic.
When you take a look at all of those numbers, Sale's seasons as a starter were almost identical. He turns 25 at the end of March, and going forward he figures to be just as good but probably better. Him being left-handed also increases his value, so should the struggling Sox be looking to move him? Or is there a chance to build around him before his potential bid for free agency in 2018?
Trade him
I'm not saying Sale will be moved this season, I'm not even saying he has to be. Eventually, though, the move becomes inevitable.
I would never go on the record to say the White Sox don't need Sale. They do. The problem is, assuming his numbers continue to be positive, his value will only increase from now until the 2018 season. That's sure to fetch several offers from teams loaded with prospects. On the surface it appears the White Sox aren't too close to competing within the next couple of years; it'd be tough to turn away potentially rewarding offers.
That being said, Chicago has complete control over Sale, and at a cheap rate. No ace should be getting $3.5MM to pitch in 2014; that's simply not how the market works. When Sale becomes eligible for free agency he'll be 29 years old. I don't want to think about what the market price for a pitcher with his reputation will fetch, but I can confidently say the White Sox won't have the budget for it.
There are two names on their roster this season that provoke excitement: Chris Sale, of course, and unproven Cuban first baseman Jose Abreu. Abreu is three years older than Sale and has never played in an MLB game, which should tell you something. That's not to say Abreu won't be an excellent player; he very well could be, but there's no other player on this current roster that inspires confidence. There's always the possibility of second baseman Gordon Beckham and pitcher Jose Quintana providing a spark, but that's not a whole lot of positive stock on paper for Chicago.
The White Sox don't need to move Sale this season, but if their season is over by the halfway point, they'd be better served to get what they can for the ace.