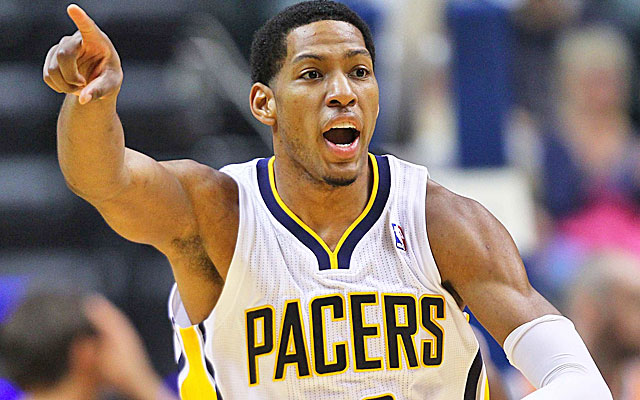 Indiana's offseason moves have been, for the most part, universally praised. Between C.J. Watson, Solomon Hill, Chris Copeland and the newly acquired Luis Scola, their bench might actually have a pulse, and after bringing back David West, the entire vaunted starting five will return.
Oh, and they're getting an All-Star back from injury. Should probably mention that, too.
It's easy to forget about Danny Granger. He's essentially an NBA dinosaur at this point; teams don't like inefficient perimeter scorers. His defense, while notoriously tough on LeBron James for reasons that really don't make sense, is league average or slightly better at best.
But most importantly, the Pacers were better off without him. Not only did they steal an extra game from Miami to push them all the way to seven, but they did it a full round later without Granger in 2013 than with him in 2012. You can put some of that on the growth of Paul George, but we also know George wouldn't have made such a leap without the extra shots and responsibility of playing without Granger.
So what are the Pacers doing with him? They can't just throw him back in the starting lineup. Aside from taking Lance Stephenson out of the starting five (an enormous mistake considering his ego), it would also mean putting Paul George at shooting guard. Playing Paul George at shooting guard is as stupid as playing Paul George at shooting guard. I can say that because the Pacers actually DID play Paul George at shooting guard before Granger's injury.
And how did that work out for them? There's a reason George became an All-Star only after Granger went down. They aren't meant to play together. Paul George is 6'10'', he's not a shooting guard.
On the other hand, Granger is a former All-Star. He's making $14 million this year. Even if he'd be willing to come off of the bench, playing him at small forward would mean less time there for Paul George, an obvious no-no. Now the Pacers are faced with a very awkward situation: stick Granger on the bench and cut his playing time substantially, or start him and mess with the chemistry they created last year.
The smart move would be to get rid of him, and Danny Granger is a legitimate trade asset. Aside from his talent as a player, he has a $14 million expiring contract. Plenty of teams would trade for him. Who? I'm glad I asked. Here are four fake Granger trades that make sense for everyone:
Trade 1: Granger and Ian Mahinmi to Washington for Emeka Okafor and Otto Porter
The Wizards want to win now. Emeka Okafor hasn't won a game since like 2006. He has no business starting in the NBA. But coming in off the bench for 10 or 15 minutes? THAT'S his role. He should be a bench guy on a good team rather than a starter on a bad one.
He'd form a great duo with Scola off of the bench to give West and Roy Hibbert legitimate rest. Also, his contract expires after the season just like Granger, so neither team is making a big financial commitment.
Otto Porter was already a mediocre prospect in a bad draft, but so far in the Summer League, he's been awful. Waiting around for him to develop into a solid starter doesn't really make sense for a team that wants to win now. But just like Okafor, Porter would be a solid bench piece right away because of his versatility. With the Pacers he'd actually have the time to develop rather than immediately being thrust into the starting lineup.
And Granger gives Washington four good offensive players: John Wall, Bradley Beal, Granger and Nene. That's your core. Who cares if it never wins a championship? The Wizards want to make the playoffs now and this gets them there. Meanwhile Indiana gets two solid bench pieces and solves the Granger dilemma. Win-win.
Trade 2: Granger to Charlotte for Ben Gordon and Michael Kidd-Gilchrist
Similar to the Washington deal: a team that apparently wants to win now gives up on a prospect they picked too high anyway. Indiana gets to drop Gordon's contract after a year and takes a three-year flier on MKG.
He can't create his own shot, but he's a high-energy defensive player who will crash the boards and get to the rim. At his best he can give you almost all of what Granger does at a third of the cost for three years. Charlotte SHOULDN'T do this, but almost by definition that means they would if given the chance.
Trade 3: Granger to New Orleans for Eric Gordon
Now HERE'S the perfect sixth man for the Pacers. Gordon can play both guard spots and gives them someone who can actually hit threes consistently. He might have injury issues, but he might also just be angry that he plays in New Orleans. A return to his home state might be exactly what he needs.
New Orleans has three guards who all need the ball. As much as I love the talent of Tyreke Evans, Jrue Holliday and Gordon, who knows if they can all play together. Granger solves the logjam.
The one key here is whether or not the Pacers would be willing to take on long term salary. With Paul George's extension coming up and Lance Stephenson due for a raise, the Pacers might not want to take on three years of big money for Gordon. If they think they can move him midway through the deal they might take the chance. Otherwise I doubt Indiana jumps on this deal.
Trade 4: Granger to Phoenix for Marcin Gortat and Caron Butler
Never bet against Phoenix doing something stupid. They're something like 1-274 on all moves made over the last few years, and they've already handed the Pacers one legitimate big man on a silver platter this summer. It really doesn't make sense for Phoenix, a team that ideally wants to tank, to take on Granger, someone who could help them win now.
Has that EVER stopped in Phoenix in the past? Nope. Robert Sarver is currently reading this column and convincing himself that the Suns can make the playoffs with Eric Bledsoe, Granger and nothing else. Besides, that'll be two big names in one offseason, a major coup for a team that hasn't been relevant in three years. Who cares if it makes no sense? It's absolutely the kind of move Phoenix would make.
Meanwhile Indiana takes on no long term salary and gets two real offensive threats off the bench, another shooter and a rare low-post scorer. For a team that just needs a few guys to fill out the rotation, this deal makes perfect sense.
But big trades like these rarely happen in the NBA. Realistically the Pacers are going to hold onto Granger, it's going to be a mess, and they might mercifully deal him at the deadline for nine cents on the dollar (see Gay, Rudy). If you want to get real value for someone like Granger, trade him now. Don't try to stick a square peg in a round hole by actually keeping him. Let's see if the Pacers actually get it right before it's too late.
By: Sam Quinn
Twitter: @Rhinos_Cry_Too