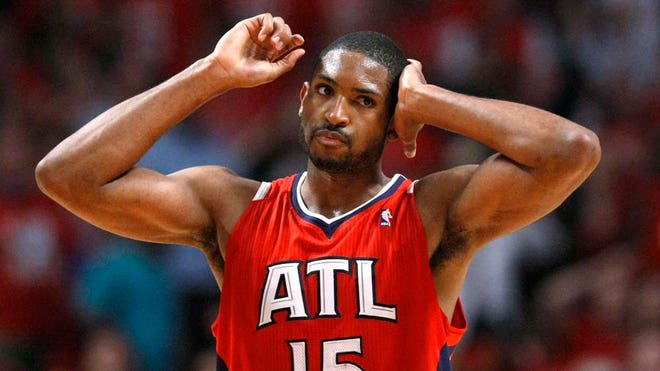 I distinctly remember the cover of issue No. 138 of SLAM Magazine. There were two versions of the cover, but the one that sticks out is the one featuring the Atlanta Hawks triumvirate of Al Horford, Joe Johnson and Josh Smith.
That was nearly four year ago. Fast forward to the present day: Johnson is helping the Brooklyn Nets take over New York. Smith has fled to Detroit, where he hopes to help the Pistons become a playoff team. Horford, on the other hand, is still right where he was four years ago, making him Atlanta's unofficial leader. Not only that, but the underrated big man will be a contributing factor into whether or not Atlanta makes the playoffs.
With Horford taking the lead, the Hawks clearly don't have that one true star like other teams do: LeBron James, Derrick Rose, Carmelo Anthony and Kobe Bryant come to mind. With that being said, now is the perfect time for Horford to overcome his underrated label and become his team's star. "While Horford probably isn't turning into LeBron any time soon, he can absolutely become Atlanta's star this season."
The former Florida Gator declared for the 2007 NBA Draft where the Atlanta Hawks took him with the No. 3 overall pick. His rookie season was very solid, as he averaged a near double-double of 10.1 points and 9.7 rebounds.
From there, his averages generally increased season to season (excluding the injury plagued 2011-2012 year). In fact, the 2012-13 season saw Horford bouncing back strong with a double-double average of 17.4 points and 10.2 rebounds. His 17.4 points were just barely second on the team behind Smith's 17.5 points. As for his rebounds, that was good enough for ninth best in the entire league. Don't forget about his 43 double-doubles last season either, which was sixth best in the league.
Now is the perfect time for Horford to overcome his underrated label and become his team's star.
When Kevin Garnett was in his sixth season, he averaged 22.0 points and 11.4 rebounds. Horford's sixth season averages are his best of his career, but he wasn't the star player of the team as Garnett was. Horford still had Smith alongside him play small forward. With Smith still there, there were less scoring opportunities available, yet Horford still posted averages near Garnett's. The difference between them is only 4.6 points and 1.2 rebounds.
Who's to say Horford won't become a consistent 20 and 10 big man with Smith gone?
Horford is clearly an All-Star caliber player, and at the rate he's improving, there is no reason he shouldn't be the one player Atlanta relies on. Horford is currently the longest-tenured Hawk. The majority of the roster is new to the team. Even the coaching staff is new. Not only will he need to lead the team on the court, but off of it as well. Chemistry will prove to be a vital aspect for this Hawks team, and Horford has naturally been given the job to bring them all together.
There is no better time for Horford to make this step. On a team filled with young talent, he has the experience that they don't. He also has the talent. He can score in the paint and has a good mid-range jumper. He makes his presence known on the defensive end by grabbing rebounds and blocking shots, and there are no teammates overshadowing him now.
The combination of young talent and Horford's underrated value can result in either another trip to the playoffs or a year of struggling. It depends on how Horford takes it. Young players shoved together on a team can simply lead to an immature and inexperienced team. There needs to be someone to take the lead, and Horford is the perfect choice to be that someone.