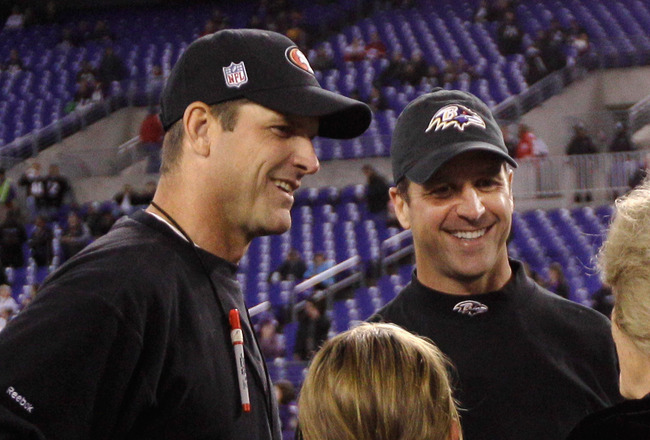 Which brother will reign supreme on Super Bowl Sunday? (Rob Carr/Getty Images)
Okay, I know you are sick of this story line. Everyone has beaten it to death and it is uninteresting at this point, but you know who has not covered this story yet? Yup, you got it, The Football Juice. And if you are reading this, then you know that we are the best in the business at giving you the information you are actually interested in. So, just trust me and read your last article about the Harbaugh brothers. Now that that is out of the way, let's begin.
The story is about two brothers, so we first need to know how both got to where they are. Both played football in college, but Jim Harbaugh found much more success. He was a four-year letterman at the University of Michigan as a quarterback and finished in the top-5 in passing attempts, completions, completion percentage, passing yards and touchdown passes in Michigan history. That effort earned him the #26 overall pick in the 1987 NFL draft, becoming a member of the Chicago Bears. He had a pretty decent career over 14 seasons, leading the Indianapolis Colts to the AFC Championship in 1995.
After he retired following the 2001 season, he took a job with the Oakland Raiders as an assistant coach. In 2003, he was offered the head coaching gig at the University of San Diego. After winning back-to-back league championships in 2005 and 2006, he took the job as head coach at Stanford. This is when we all caught wind of him. He took down USC in 2007 when they were 41 point underdogs and led Stanford to a #4 ranking in 2010, earning the school its first BCS Bowl in school history. He also coached this guy named Andrew Luck. Not sure if you have ever heard of him. Prior to the 2011 NFL season, the 49ers gave Harbaugh the head coaching job and the rest is history.
For John, it was not as simple to make it to the NFL. At the University of Miami in Ohio, he was a defensive back, but rarely played. After college, he took an assistant job at Western Michigan University under his dad. After four years at Western Michigan, he took an another assistant job at Morehead State University. Then, after four years at Morehead, he became an assistant at the University of Cincinnati. After an eight-year stint in Cincy, he became an assistant at Indiana for a season.
During his slow crawl up the college football ladder, he was offered an assistant job in 1998 for the Philadelphia Eagles. Harbaugh was the Eagles' special teams coach for nine seasons before he asked Head Coach Andy Reid if he could get promoted to defensive backs coach so he would have a better shot at getting a head coach offer.
One year later, in 2008, Harbaugh was offered the Ravens' head coaching job after the Cowboys' offensive coordinator at the time, Jason Garrett, turned the job down. The Ravens front office got a call from Bill Belichick during the hiring process giving Harbaugh a recommendation. You would have to guess that it had a huge impact on the hire. I bet Belichick is second-guessing that decision now that the Ravens are in the Super Bowl and the Patriots are home watching the game from their couches.
Although you may be sick of this story, you can't overlook the coolness of it. If you have siblings, you know about the rivalry. Usually, no one is paying attention to any of these rivalries. Whether it is who is the better checkers player or who can spit the furthest. (Is that a weird competition? Well, I guess my brothers and I are weird people.) The point is that we usually compete in these rivalries for inner pride, to be able to say that we are better than the person/people we are most alike in this world. On February 3rd, the Harbaughs are not only fighting for inner pride, but for the pride of Ravens Nation and Niners Nation. There is more on the line for this game than any other sibling rivalry in history.
There is going to be more emotion in this game than any football game we have ever seen because it is one thing to lose the Super Bowl, but to lose it to your brother's team has to be the most damaging experience ever. That added dimension is going to make this game more interesting than past Super Bowls. Be ready to see both coaches take risks they would not usually take because they know this is most likely the most important game of their lives.
Think about it. Say the 49ers lose this year, but win it next year against a different AFC team. If that were the case, then unless Jim played John again in the Super Bowl and beat him, John would always have the leg up. Even if Jim won 15 Super Bowls. John would have the only one that matters. So, although you are probably tired of hearing about it, do not let that cloud how big of a deal this is and how it will make the game that much more enjoyable to watch. Now, if you will excuse me, I have to go call my brother and let him know how much better at spitting I am.
By: Matt Levine
E-mail: mlevine@thefootballjuice.com
Twitter: @Matt_TFJ