For Lionel Messi, this wasn't how it was supposed to end: heartbreak in the closing moments of extra time left his team as runners-up, while he was sent home with the Golden Ball—nothing more than a consolation prize to a man who was presented with the burden of bringing home a championship for his country.
And that's just the problem, isn't it? From Messi, we expect more than just a man. He is the type to single-handedly win matches, which he more or less did through Argentina's incredibly easy group stage. But after that, he disappeared. Sure, he had the assist of the game-winner against Switzerland in the round of 16, but he was left with so much space to make said pass that most competent footballers could have done so.
In the quarterfinal against Belgium, it was a rare moment of brilliance from Gonzalo Higuaín that provided the only scoring to get his country into the semifinal. The victory came at a price, however, as Ángel di María was likely to miss the rest of the competition after tearing a muscle in his thigh. Their semifinal match against the Netherlands went scoreless through extra time, and Argentina eventually won via penalties.
You could argue that Switzerland (who kept Argentina off the score sheet for almost 120 minutes), Belgium, and the Netherlands all did a wonderful job of neutralizing Messi after the conclusion of the group stage.
Then there was Sergio Agüero, the Manchester City forward who, like Higuaín, didn't make an impact like many had anticipated. Those four names I just mentioned: Messi, di Maria, Higuaín, and Agüero, present an attack almost like none other on paper—except perhaps Germany and its overwhelming midfield.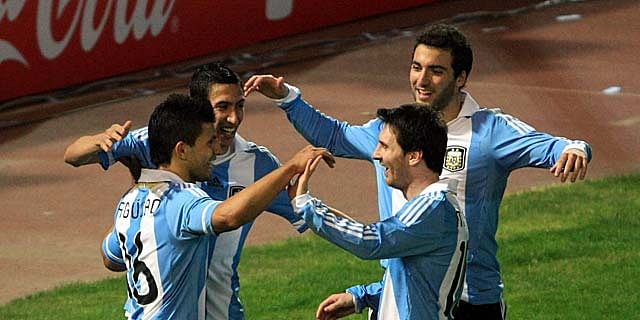 So when the knockout rounds arrived, did Messi disappear? Or, do we just expect the world of him? Well, it was a little of both.
This isn't going to be an argument on whether or not he should have received the Golden Ball. That topic has been beaten to death and while I could make an argument for at least 10 other individuals, I've already resigned to the thought that it was merely a consolation prize. It's Lionel Messi, after all; he needs to go home with something, right?
No, this deals with the résumé the Barcelona superstar has already compiled, and while the World Cup was arguably the last thing Messi needed to do to cement himself as the greatest, he hasn't become less of a player simply because he and the rest of his team (the whole team thing is important) failed to win it all. That doesn't mean he couldn't have been better, though.
Barcelona Accomplishments
Here are his statistics through the years for the La Liga powerhouse:
2008/2009: 51 appearances, 37 goals in all competitions.
2009/2010: 50 appearances, 45 goals in all competitions.
2010/2011: 55 appearances, 53 goals in all competitions.
2011/2012: 58 appearances, 73 goals in all competitions.
2012/2013: 50 appearances, 60 goals in all competitions.
2013/2014: 40 appearances, 41 goals in all competitions.
Also, to his and Barcelona's credit, they've won the following trophies over the course of his tenure:
La Liga: six times (2012/2013, 2010/2011, 2009/2010, 2008/2009, 2005/2006, 2004/2005)
Copa del Rey: twice (2011/2012, 2008/2009)
Super Cup: six times (2013/2014, 2011/2012, 2010/2011, 2009/2010, 2006/2007, 2005/2006)
UEFA Champions League: three times (2010/2011, 2008/2009, 2005/2006)
While playing in La Liga offers very little in terms of competition, Messi has more than proven himself on European soil in such tournaments as the UCL, where he has scored 64 goals in 87 total appearances.
But how does this compilation stack up when compared to his international record?
World Cup Stage
Messi has appeared in three World Cups for Argentina, although in 2006 he was hardly the player he has now developed into. He was 18 years old at the time, and his country was playing its second group game against Serbia and Montenegro. They were already ahead 5–0 when Messi entered, he added a sixth (and his first ever on the biggest stage of them all), and that is all the scoring we'd see from him until the 2014 World Cup.
Playing in all five of his country's games in 2010, he failed to register a goal or even an assist. It was beyond disappointing for the 22-year-old rising superstar, and many assumed Brazil would finally be his time to shine.
I guess you could argue they were right, but only to an extent.
Messi wasn't the sole reason his side won all three of their group games, but his four goals sure helped. Other than the Nigeria game, however, the team defense against Bosnia and Iran was almost unbreakable. Nigeria notched two on them but at that point, Argentina had already clinched the group after their first two matches.
So to quickly recap, the Argentinians conceded once against Bosnia, kept a clean sheet against Iran, and conceded twice against a resurgent Nigerian side. They wouldn't allow another goal until the final against Germany. In total, they would concede four times, tied for the lowest total with the champions themselves. They only scored eight, though, and Messi was responsible for half of those.
Yet, none of them came after the group stage. Where did he go?
While nobody can rationally question his work ethic or the constant danger he was capable of creating when he was on the ball throughout the knockout rounds, one could rationally question the end product—particularly against Germany.
Early on in the first half Messi sprinted with the ball at his feet all the way down the right side of the field, eventually making his way into the penalty area. He proceeded to botch the cross and ultimately waste the chance. Then, early on in the second half it was just him and goalkeeper Manuel Neuer. In a spot we've seen Messi score from countless times, he took the chance with his left foot but barely threatened the net as the shot went wide.
His moment was over because it never occurred. At the end of the day he had failed to capture it.
Then there was the final free kick as extra time was winding to a close. Messi had a reasonable shot at goal from just outside the box, a shot in which he took his sweet time planning. For a moment I thought Cristiano Ronaldo was setting up out there. As it turns out, the result looked very reminiscent of recent Ronaldo efforts, as he sailed it clear over the bar without a touch of danger.
All that time for nothing. His moment was over because it never occurred. At the end of the day he had failed to capture it.
Whether Messi is the greatest footballer in the game today is entirely irrelevant on the international stage. Remember, this is a man who is held up to the pressure of being able to single-handedly win matches for his team. After the group stage, he failed to do that. After the group stage, a lot of the burden was placed on the defensive shoulders of Ezequiel Garay, Pablo Zabaleta, Marcos Rojo, Martín Demichelis, and Javier Mascherano—not to mention goalkeeper Sergio Romero.
The country of Argentina likely couldn't care less about what Messi will continue to do at Barcelona. He had one job this summer, and that was to help bring home the World Cup. Ultimately, he came up short with less than stellar performances in the knockout rounds.
Overall, Messi had a good, but not great, World Cup in Brazil. But at the end of the day that's disappointing for the millions of fans that adore him, because we all know he has always been capable of much more.
Statistics courtesy of Soccer Way