We thought it was going to happen when they came back from a 2-0 deficit to beat the Spurs in six… and then it didn't happen.
We thought it was going to happen when Kevin Durant said he was "sick of being No. 2" on the cover of Sports Illustrated… and then it didn't happen.
We KNEW it was going to happen when Durant won MVP, gave a heartwarming speech thanking everyone in his life from teammates to that dude at Cinnabon that one time in Seattle… and then it didn't happen.
Every year, over and over, it keeps not happening for the Oklahoma City Thunder. Every year we're convinced that the start of their dynasty is going to come, never accepting the very real possibility that it's just not ever going to happen for this team. But that possibility is no longer a possibility. It's reality. We saw all of our questions, all of our doubts and fears and wonders about this team answered in six games against San Antonio.
As currently constructed, the Oklahoma City Thunder cannot win a championship.
When it comes to in-game coaching, Scott Brooks is bad at his job.
What's going to change between now and next spring? Are the Spurs going to disappear? Is LeBron going to play football? And what about the Grizzlies and Clippers? You know, the teams that came one Reggie Jackson explosion (Memphis) and one replay failure (LAC) from probably beating the Thunder before the Western Conference Finals. Unless you give Sam Presti a time machine to go back and reverse the James Harden trade, none of those threats are going away.
So let's talk this out. What is going to change? Kevin Durant's not going anywhere. As much brouhaha as we hear about Russell Westbrook, he isn't either. Serge Ibaka is staying unless Presti sees fit to chase after Kevin Love. The supporting cast, save for probably Thabo Sefolosha, is probably stuck in place. Presti is staying put. So… let's talk about the elephant in the room.
Before we actually talk about Scott Brooks specifically, consider the following:
1961-71 Los Angeles Lakers: Coached by Fred Schaus, Butch Van Breda Kolff. Reached Finals seven times in 10 years. Lost every time.
1972 Los Angeles Lakers: Coached by Bill Sharman, won NBA championship.
1976 Washington Bullets: Coached by KC Jones, won 48 games, reached Eastern Conference Semifinals and lost.
1978 Washington Bullets: Coached by Dick Motta, won NBA championship.
1989 Chicago Bulls: Coached by Doug Collins, won 47 games, reached Eastern Conference Finals and lost.
1991 Chicago Bulls: Coached by Phil Jackson, won six championships in eight years.
1998 Los Angeles Lakers: Coached by Del Harris, won 61 games, reached Western Conference Finals and lost.
2000 Los Angeles Lakers: Coached by Phil Jackson, won three championships in a row.
2003 Detroit Pistons: Coached by Rick Carlisle, won 50 games, reached Eastern Conference Finals and lost.
2004 Detroit Pistons: Coached by Larry Brown, won NBA championship.
So we have LOADS of evidence that suggest that sometimes a coach has taken a team as far as it can go. Sometimes, you need some new blood to get over the hump. This isn't necessarily an indictment of the coach, just look at the list of fired coaches here. Collins is highly respected, Carlisle and Jones both have rings and Harris is one of the best coaches to never win one. There's such a thing as a good coach not being the right coach to take a team from contender to champion. It happens all of the time.
But that isn't the case with Scott Brooks. I can't speak to what goes on in the Oklahoma City locker room. Perhaps he's one of the league's great motivators, or maybe he's an expert at developing talent. But when it comes to in-game coaching, Scott Brooks is bad at his job.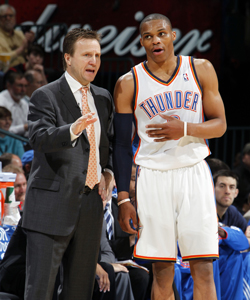 It's evident in every single offensive possession. Every time Russell Westbrook dribbles around for 18 seconds and then jacks up a three, we have to sit around wondering why the other four guys were just standing around. There's no system in place. None. The offense essentially amounts to just "give the ball to Kevin or Russell, they'll figure it out."
You don't need to be Gregg Popovich to win a championship, but you need to have some sort of scheme in place to make sure you can get good shots even when the defense clamps down. How many times do we have to see Durant bullied away from the ball by a bulkier defender in crunch time without a backup plan in place before we say that this guy should not be coaching this team?
Just because you win a lot of games and a few early series doesn't mean you're a good coach. Vinny Del Negro is above .500 for his career and has won a playoff series, yet he's still consistently considered one of the worst coaches in basketball.
Winning with Kevin Durant and Russell Westbrook isn't particularly hard. Just stick a cardboard cutout of the Men's Warehouse guy on the sideline and the Thunder would win 55 games with them alone. Where coaching makes a difference is in the playoffs, where Brooks has consistently failed.
He refused to change his starting lineup in the 2012 Finals despite game after game of proof that Kendrick Perkins couldn't play against the Heat. He also refused to switch out of a base man-defense despite Rick Carlisle flummoxing LeBron with a zone one year earlier en route to a championship. He's stubborn, he's slow, and he only makes any real adjustments when his back is pressed to the wall.
So much of what makes this Thunder team great revolves around loyalty. Durant and Westbrook sticking around despite opportunities to play in bigger markets. The fans not turning on Presti and Ibaka after the Harden trade. Hell, their whole existence came about because of their support of someone else's team after Chris Paul's Hornets were forced into co-opting their city after Katrina.
But changes need to be made if this team wants to win a title. With Scott Brooks as head coach, the Thunder aren't going to do it. I don't know who the answer is, but if Oklahoma City wants to make the final leap from contender to contender to title, it's going to have to come with a new head coach.