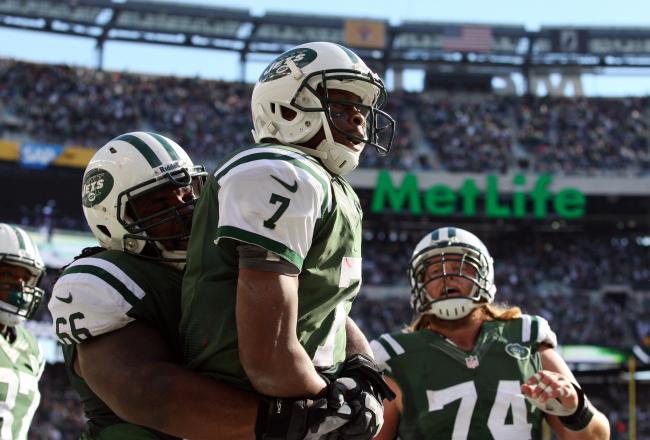 A win over the Patriots? Been there, done that.
Beating a Super Bowl favorite mid-season? The name "Kerry Collins" rings a bell.
Monday Night Football? Comebacks? An overwhelming string of luck that should logically fade, but so far hasn't? Yup, seems about right.
So forgive me if I'm not sold on the Geno Smith Era yet. Frankly, we've been down this road before, and never has it ended well.
Remember Chad Pennington? He was the quarterback of the future in 2002, when he stepped in for Vinny Testaverde and took a 1-4 Jets team to the playoffs and then beat Peyton Manning 41-0. Pennington never started double digit games two seasons in a row. By 2006, I had literally taped a new nameplate on the back of my Pennington jersey with the word "Leinart" days before the draft. A bad omen? You be the judge. He took the Dolphins to the playoffs a few years later.
But that's ok, after all we had Kellen Clemens. You know, the guy Merrill Hoge praised profusely on SportsCenter. A promising start against Ray Lewis and the Ravens made us believe. A horrific seven-game stretch to end the season took that away. Suddenly we were headed for the most underwhelming quarterback competition this side of Oakland.
That competition ended with the arrival of Brett Favre. Don't get me started on the Favre year. Just know that I think less of him than Joe Flacco. How he escapes judgment for tricking the Jets into releasing him so he could retire is beyond me. It was among the most classless things an NFL player has ever done that didn't involve the words "bullying", "bounty," or "love boat."
And yet, we all swooned over highly touted rookie Mark Sanchez the very next year. Sanchez, who slayed the mighty Patriots in his second career start. Sanchez, who beat Tom Brady three times in his first two years, both of which would garner AFC Championship Game appearances. Sanchez, the guy who pulled more lucky wins out of his ass than Matt Saracen.
The shame of the Mark Sanchez era isn't how bad he was. It's how good the rest of the team was. 2010 was the first and only Jets team since the early 90s that was legitimately good enough to win the Super Bowl. They didn't because of Sanchez, a fact Jets fans haven't forgotten.
Hop into your time machines for a moment. Jets quarterbacks since the 1970s have been a combination of veterans who were either past their prime (Boomer Esiason, Favre, Testaverde) or never had one (Brooks Bollinger, Brooks Bollinger, Brooks Bollinger); young guys who never came close to panning out (Browning Neagle, Rick Mirer), woefully underqualified backups (Bubby Brister, Frank Reich); and guys whose names I've since given up in favor of "Not X" — Not Dan Marino (Ken O'Brien), Not Peyton Manning (Ray Lucas), Not Tom Brady (Pennington). It's a laughable group of crap.
Do any Jets fans trust Geno Smith yet? No, not by a long shot.
It's why Jets fans have been so slow in accepting Geno Smith. We've been burned so many times over the past decade. Once again, we see a team with enough talent to win a Super Bowl one day and a young quarterback who makes the kind of mistakes that will prevent that.
I've enjoyed the Geno Smith experience so far. It's fun to have a mobile quarterback. It's nice to have someone who can throw to the middle of the field without killing his receivers. But do I trust Geno Smith yet? Do any Jets fans trust Geno Smith yet? No, not by a long shot. Why?
Mark Sanchez's first nine games: 9 TDs, 12 INTs, 1,655 passing yards, 6 fumbles, 4-5 record.
Geno Smith's first nine games: 8 TDs, 13 INTs, 1,997 passing yards, 6 fumbles, 5-4 record.
Well, those numbers look awfully similar, don't they? The surrounding circumstances look pretty familiar as well. A great defense, solid special teams, a physical running game. The 2009 and 2013 Jets are very similar teams: Strong rosters top-to-bottom with young quarterbacks who make too many mistakes.
This isn't to say that Smith hasn't been impressive in short bursts. Frankly, he has been. He was stellar against the Falcons and Bills and has made enough plays to beat superior teams like the Patriots and Saints. Those plays just haven't come consistently enough, because right now, the Jets don't need a rookie, they need a quarterback they can depend on.
The Jets are 5-4 and leading the race for the AFC's No. 6 seed. The only team left on their schedule with a record above .500 is the Panthers, and with games against the Raiders, Browns, Bills, Ravens and Dolphins (twice) left, it looks like the Jets are the heavy favorite to snag that last spot.
The Jets have the league's first ranked rushing defense and seventh ranked defense overall. They're rushing for almost 130 yards per game. Muhammed Wilkerson is a sleeper for Defensive Player of the Year, Nick Folk hasn't missed a kick all year, Zach Sudfeld has a .00000000006% chance of making us forget that we handed Danny Woodhead to the Patriots on a silver platter. This team is good.
We just aren't sure where we're at with the quarterback. Jets fans have a tenuous relationship with the position and have since Joe Namath retired. We've lost too many chances at Super Bowls, we're bitter, even Fireman Ed left. So, as much fun as this Jets season has been, nobody trusts Geno Smith yet. That's a long way off.