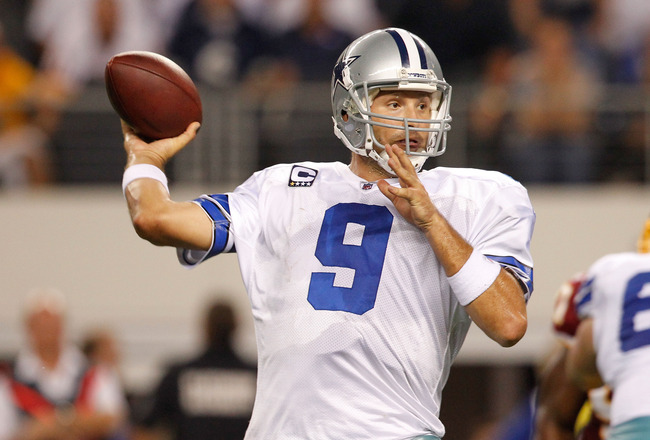 Tony Romo is criminally underrated. When discussing the league's top quarterbacks he's never mentioned within even the top-10, yet in his five full seasons as a starter, he has finished fifth, eighth, eighth, fourth and 10th in passer rating. This year, he's second, thanks in large part to a legendary performance last week against Denver. Yes, it was legendary. I don't care if he lost. I don't care if he threw a game-losing interception in the fourth quarter.
Let's address that interception. The common criticism is that it was a bad decision, one that Romo often makes late in games. While you can question the decision, it wasn't nearly as bad as everyone thinks. Sports Science explains what really happened here quite well. Romo's feet got tangled up with left tackle Tyron Smith's, forcing him into a quick extra step that slowed down the pass. If it were five miles per hour faster, as a typical throw without feet-tangling would have been, then receiver Gavin Escobar would have caught the ball.
But that's not the point. Even if Romo choked, even if he did throw a fourth-quarter interception, it's not like he hadn't done his job leading up to that point. He put 48 points on the board. The quarterback's job isn't to win, it's to put as many points up as possible. Romo did that. He can't control what the defense does. There hasn't been nearly enough criticism of Romo's defense, which gave up 51 points. Blaming Romo is a tired excuse, the product of our 140-character society that values brevity and narrative over truth.
Besides his receivers, Romo has largely gone without significant help over his entire career. Using Football Outsider's pass-protection rankings, points per game allowed, and overall team rushing statistics, here is where the three aspects of the game (running, protection, defense) that Romo can't control have ranked from 2007-2012:
Offensive Line: 7th, 13th, 16th, 11th, 13th, 11th, average: 12th
Defense: 13th, 20th, 2nd, 31st, 16th, 24th, average: 18th
Running Game: 17th, 21st, 7, 16th, 18th, 31st, average: 18th
And here's where Romo stands among NFL quarterbacks in two other significant rankings:
Football Outsider's DVOA: 4th, 11th, 7th, 17th, 4th, 10th, average: 9th
ESPN QBR: 5th, 21st, 12th, UR (injuries), 5th, 13th, average: 11th
Remember, in Romo's case, having an average of nine or 11 is far more impressive than being the ninth or 11th best quarterback in football, as the other names on that list change quite often.
Either way, we now have three very credible metrics backing Romo and three raw sets of data that show that, other than his receivers, his teammates haven't exactly been stellar. He's had slightly above average offensive lines (and remember, his quick release partially accounts for that, his is the fastest in all of football), but below average defenses and running game.
Blaming Romo is a tired excuse, the product of our 140-character society that values brevity and narrative over truth.
There are 53 players on a football team, yet we consistently judge players based on team accomplishments. No player, no matter how good, can guarantee a win with his performance. Nobody can control what happens when they're off the field. When he's been on the field, Romo has done his job.
There is one quarterback in all of football who seems like a suitable comparison to Romo. Like Tony, this quarterback has a propensity for throwing interceptions. Like Tony, this quarterback plays in a high pressure market. But unlike Tony, this quarterback has two Super Bowl rings.
This quarterback is Eli Manning.
The resemblances are more striking than you'd think. Both have led the league in interceptions, but Eli has done it twice to Romo's once, and Romo's total when he did (19) is lower than Eli's in either of his two years (20 and 25). In fact, Romo actually averages less interceptions at 13 per year than Eli, who throws almost 17.
Like Romo, Eli has a history of losing games he shouldn't. Remember the '08 playoffs against the Philadelphia Eagles? The '05 Wild Card matchup against the Carolina Panthers? Or, if you prefer longer form screw ups, Eli's Giants started 5-0 in 2009 and missed the playoffs, and lost five of their last eight in 2012 to blow the division to the Washington Redskins. Eli's history of screw-ups is just as extensive as Romo's.
But there's one big difference, Eli has two Super Bowl rings and Romo has none. In the eyes of the public, that makes Eli a god and Romo a goat. But when you look at the teams Eli has had around him, the picture starts to get a bit clearer. Take a look at where his teams ranked in offensive line play and in the running game (we'll get to defense in a minute):
Offensive Line: 8th, 7th, 11th, 10th, 9th, 2nd, 6th, 3rd, average: 7th
Running Game: 6th, 7th, 4th, 1st, 17th, 6th, 32nd, 14th, average: 11th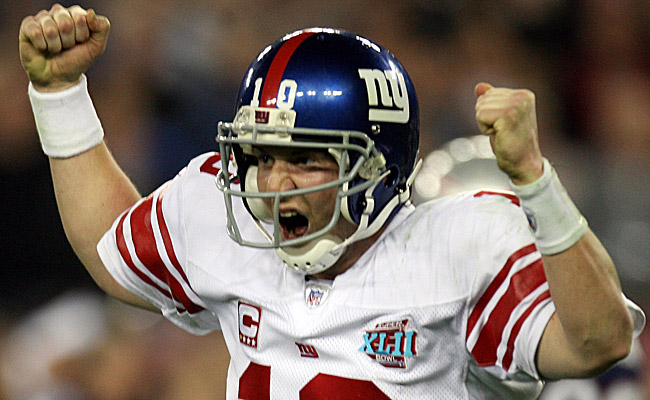 Eli's offensive line has consistently done more for him than Romo's has, especially when you account for Eli's slower release. His running game, even when you account for that one outlier in 2011, has been significantly better than what Romo has had to work with.
Before you jump on Eli winning the Super Bowl with the NFL's 32nd ranked rushing attack in 2011, know that it improved to 116.5 yards per game in the playoffs, which would've been ranked 16th over the full season. Not great, but definitely passable.
And while we're on the topic, Romo had less than one full season as a starter with Bill Parcells, and then was stuck with Wade Phillips and Jason Garrett, otherwise known as a gigantic silo of pig crap. Eli Manning has had Tom Coughlin, a very good coach, for his entire career. That's a huge deal.
Now, as for the defense, it's been pretty hit or miss in the regular season. But in the playoffs? Absolutely flawless. In their 2007 run, the Giants defense held opponents to 17 points per game in the playoffs despite playing the three best offenses in football: Dallas, Green Bay and New England. In 2011 they were even better, holding opponents to 14 points per game despite playing against Matt Ryan, Aaron Rodgers and Tom Brady. Those totals would have ranked fourth and first in the league, respectively, over those full seasons.
This matters because frankly, Eli Manning wasn't exactly Joe Montana in those runs. In 2007, his offense averaged 21 points per game in the playoffs. Typically, that's not Super Bowl worthy, but with his defense humming it was more than enough.
It improved to 25.5 points per game in the 2011 playoffs, but remember, the Giants played two absolutely horrendous defenses during that run (Green Bay and New England) along with one that finished 18th in points allowed per game (Atlanta). You'd typically expect a tougher set of defenses during a Super Bowl run, even if they did run up against top-ranked San Francisco.
For his career, Eli has been perfectly acceptable in the playoffs. 17 Touchdowns to eight interceptions, 61.5% completions, 89.3 passer rating and just under 250 yards per game is nothing to complain about. The problem is that Eli has been lauded as some kind of clutch savant. He's been perfectly acceptable in the playoffs, but certainly nowhere near what his reputation would suggest.
Eli hasn't been spectacular in the playoffs, but he's done enough to win. He's made the plays he's had to make. But if his teams had been worse around him, would he have even had the chance to make those plays? Probably not. The helmet catch never happens if the Patriots had already scored 40 points.
When you factor all of this in you see that Eli, and honestly pretty much any "clutch" quarterback, isn't consistently great in the playoffs. He was just good enough to win twice, and that's what matters in the eyes of the common fan. Remember, Tom Brady hasn't won a ring since 2004 and has lost in dramatic fashion several times. Once a quarterback has reached the "clutch" plateau, people tend to ignore what happens afterwards, even if that plateau involved good play but not dominance.
Once a quarterback has reached the "clutch" plateau, people tend to ignore what happens afterwards.
Now let's consider a more extreme case of a team winning a Super Bowl rather than a quarterback. In 2005, Ben Roethlisberger won a Super Bowl in only his second NFL season. Roethlisberger's Steelers were known as a team that ran the ball and played defense, and it showed.
Both the Pittsburgh defense and running game finished the year in the top-five. With Roethlisberger missing four games, they were the most important factors leading to Pittsburgh making the playoffs at all. Once they were in, they went on the greatest run a No. 6 seed has ever had, thanks in large part to Ben Roethlisberger.
But once the Super Bowl came around? Roethlisberger was horrendous. 9-of-21, 123 yards, zero touchdowns, two interceptions. Yet the Steelers won, largely on the strength of their defense, Willie Parker and some questionable officiating. Does this ever get brought up in regards to Ben's clutch acumen? Nope. Will we ever think less of him as a two-time Super Bowl winning quarterback because he sucked in his first Super Bowl? Of course not, because he has the rings, and apparently, that's what matters.
The ultimate case of ring obsession? Brett Favre. You think of Favre as a pretty clutch player, right? After all, he's consistently lauded for his gunslinging ways, and he does have a Super Bowl ring. Yet in the playoffs, Favre became a middle-of-the-pack quarterback. His 86.3 quarterback rating is good but not great, his 44-to-30 touchdown-to-interception ratio is the same, and at under 61% completions, Favre certainly wasn't throwing like an MVP.
Need anecdotal evidence? On four separate occasions, Favre has ended his team's season on an interception. 2003 against the Eagles, 2007 against the Giants, 2008 against the Miami Dolphins, and 2009 against the New Orleans Saints. Three of those were in the playoffs, two in the NFC championship game. If we're going to take points away from Romo for being careless with the ball, Favre has to get the same treatment.
Tony Romo simply hasn't had many playoff reps. This is entirely understandable due to the players around him. Plenty of people will blame that lack of playoff opportunities on Romo for blowing big games in the fourth quarter. Statistically speaking, Tony Romo actually plays quite well in the fourth quarter. Take a look at his fourth-quarter passer ratings compared to Eli Manning's in each of their full seasons as a starter:
Romo: 93.5, 114.7, 101.8, 83.5, 104.4, 101.2
Manning: 83.1, 75.6, 83.6, 89.1, 96.9, 65.0, 111.0, 90.2
As these numbers show, Romo has typically been consistently better than Manning in the fourth quarter. Besides the injury-plagued year of 2010, Romo has never dipped below a passer rating of 90 in the fourth, while Eli has five times and come close another. Unless you have access to Tony Romo's heart rate or have a Ph. D. in psychology then you probably don't have much evidence to suggest that Tony Romo has consistently faltered in the fourth quarter.
Tony Romo's habit of choking is entirely anecdotal. Yes, he has thrown big interceptions at bad times, but so has Eli and every other quarterback. The difference between Romo's interceptions and everyone else's is that Romo has typically had mediocre teams around him, so those interceptions cost a lot more.
The old adage is that great teams don't win close games, they avoid them, and Romo hasn't had many opportunities to avoid those situations because of those around him. If Romo had been playing against the Redskins last year with one of Ben Roethlisberger's defenses or Eli Manning's rushing attacks he very well could have won.
Yet the world is going to continue to pile on Tony Romo until he eventually gets that ring. It's a shame because it's an utter waste of our time and effort. Team accomplishments are entirely separate from individual play. No one player is good enough to win a Super Bowl on his own, nor is it even possible for that to happen unless he were to play on both sides of the ball.
It's time we stopped with this nonsense. I'm starting a campaign. In the vein of Brian Kenny's #KillTheWin, we're calling this #KillTheRing. Let's accept that you don't have to win to be a great player. Super Bowls are a team accomplishment. Let's stop pretending that quarterbacks can be judged based on jewelry.