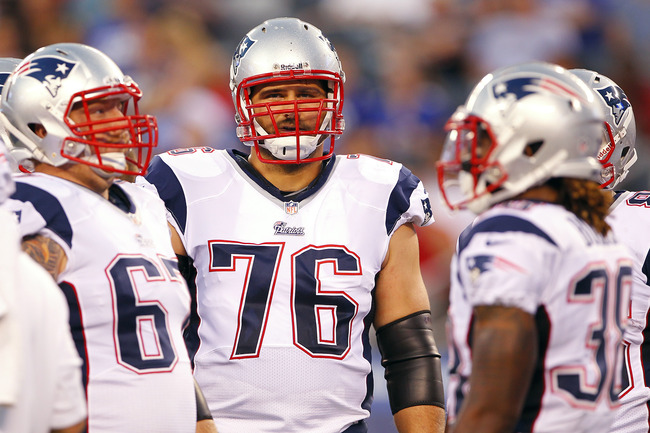 Will Sebastian Vollmer continue to protect Tom Brady in 2013? (Rich Schultz/Getty Images)
The AFC East isn't exactly a divisional powerhouse, but they have some excellent free agents and the rest of the league is on notice. I've ranked the best AFC East free agents for the upcoming offseason. I think some of these stars, like Wes Welker, are likely to stay put, but that does not mean this isn't a huge market for them.
1) Sebastian Vollmer, OT, New England Patriots
It is hard to get a clean hit on Tom Brady, and he is a big reason why. Even with his knee surgery, he is the top free agent in the division.
2) Wes Welker, WR, New England Patriots
It doesn't matter whether you think Welker is only good in the Patriots system or not. His route running ability and shiftiness makes him a huge threat to opposing defenses.
3) Andy Levitre, OG, Buffalo Bills
There aren't many bad things to say about this guy. He is only 26, making him a very good sign for the future. He hasn't missed a game since the start of his career, either.
4) Jake Long, OT, Miami Dolphins
Long is another young, talented tackle who has a lot to offer. He has many years left, so I wouldn't be surprised if he gets a big deal from a team who needs help on the line.
5) Aqib Talib, CB, New England Patriots
As troubled as he is, he is still very talented. He needs strong leadership to succeed, though.
6) Dustin Keller, TE, New York Jets
I am willing to look past his numbers because I think the talent is there. Let's see how the production increases if someone not named Mark Sanchez is throwing him the ball.
7) Matt Moore, QB, Miami Dolphins – UPDATE: Moore has re-signed with Miami to stay as the backup QB
While he isn't an elite quarterback, I think he is plenty talented. You are getting a game manager for cheap. It's the superior option to, say, trading for Alex Smith, or wasting a high round pick on a quarterback in this year's NFL Draft.
8) Reggie Bush, RB, Miami Dolphins
He will never be a premier, every-down back. While he has shown flashes of being that guy, it is easy to tell he is not. Get him to accept that, along with a smaller contract, and you have a decent running back.
9) LaRon Landry, S, New York Jets
He is coming off his best season, so his value is a bit inflated. He is a very physical safety, if you are into that sort of thing.
10) Shonn Greene, RB, New York Jets
I am not a huge fan of Greene, but he proved his worth. He is not a big touchdown scorer, but give him the ball 250 times and he will get you 1,000 yards.
By: Jared Bissonnette
E-mail: jbissonnette@thefootballjuice.com
Twitter: @Jared_TFJ