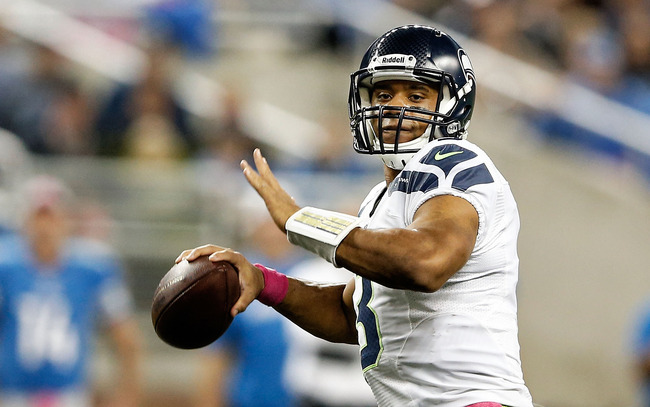 Russell Wilson came close to winning ROY in 2012 (Leon Halip/Getty Images)
Is it ever too early to start looking at your Fantasy Football draft strategy? They say there are no stupid questions, but come on. So, without further ado, I present the next segment in my 2013 Fantasy Football Rankings numbers 21 through 30. These rankings are based on a 10-team standard scoring league.
21) Russell Wilson, QB, Seattle Seahawks
He put up nice numbers with scrub WRs. I wonder what he can do with Percy Harvin.
22) Darren McFadden, RB, Oakland Raiders
McFadden has too much talent to not bounce back from an extremely mediocre season. He offers good value in the 3rd round.
23) Stevan Ridley, RB, New England Patriots
The Patriots have proven they can run the ball, so he is not a risk. The Patriots also score a lot of points, if you see where I am going with this.
24) Jimmy Graham, TE, New Orleans Saints
He is one of two tight ends who will never let you down.
25) Cam Newton, QB, Carolina Panthers
Don't let a poor start to a season fool you: he can get the job done down the stretch.
26) Chris Johnson, RB, Tennessee Titans
A mid-3rd round flier on a guy who is always a threat to break one? Don't mind if I do.
27) Matthew Stafford, QB, Detroit Lions
Reggie Bush should help his production. Also, he is very draftable in the later part of the 3rd round. As many of you found out last season, that is not the case for the first round.
28) Andrew Luck, QB, Indianapolis Colts
When aren't the Colts going to need to throw the ball?
29) Demaryius Thomas, WR, Denver Broncos
I dropped him down a bit after Wes Welker got signed. Peyton won't have a favorite target, but he will no doubt throw tons of short passes to Welker.
30) Julio Jones, WR, Atlanta Falcons
He fell about a round from where I had him last year due to Roddy White being as dominant as ever, but he is a true #1 WR.
By: Jared Bissonnette
E-mail: jbissonnette@thefootballjuice.com
Twitter: @Jared_TFJ