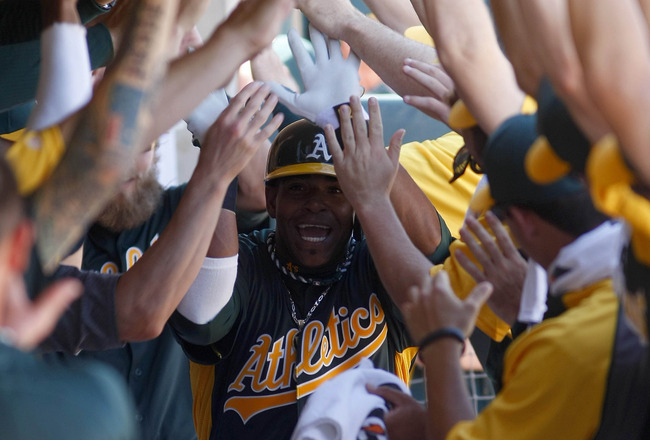 Prior to the start of this season, I took a look at a sports betting website to see how oddsmakers in Las Vegas believed the baseball season would play out. Which team was the odds-on favorite to win the World Series? Which team was overrated? Underrated?
And, of course, I took a relatively small amount of money (<$50) and bet where I saw potential. As we approach the All-Star break, let's take a look at how those bets are starting to develop:
MLB Season Wins: Oakland Athletics Over 84.5 Wins (-120)
Risk: $21.00
To Win: $17.50
I was not going to be insulted by Vegas' downright insulting forecast of the Oakland A's (full disclosure: I'm an A's fan). After winning 94 games in 2012, Vegas believed that they had an almost even chance to drop 10 games in 2013. Given that they are only getting older and more mature as a team — most of them, especially the starting pitchers save Bartolo Colon, have yet to hit their prime — and added a couple of players who looked to make a big difference in 2013, it was a little surprising to see the bar set so low.
As of this article, the A's are in first place in the AL West with a 52-37 record, just 33 wins away from proving my wit. Can some mathematician tell me the odds that they finish 32-41 in their remaining 73 games?
Winner of 2013 NL East: Atlanta Braves (+245)
Risk: $3.00
To Win: $7.35
I had a lot of faith in the Braves before the season. After they had made the trade to bring Justin Upton to Atlanta, a wise move considering their weak lineup heading into 2013, I saw things starting to come together. That, and I thought that the Nationals would face some regression, bad luck, and overall growing pains.
And, so far, so good. As of this writing, the Braves sit atop the NL East by four games. Their only real competition, the Nationals, have struggled to maintain their footing, but it should still be a tight race in September.
Winner of 2013 AL East: Tampa Bay Rays (+350)
Risk: $3.00
To Win: $10.50
OK, I'm not clairvoyant. I saw a Rays team that was swimming a little under the radar. Moreover, I saw a team that could take advantage of a division that seemed to be open for new rules to take over, tired of the stronghold that Boston and New York have had on it for years.
The Rays currently sit at 49-40, five games back of the surprisingly red hot Red Sox, surging right before the All Star Break and getting back to full health — star pitcher David Price has had his fair share of injury woes thus far. Can the Rays still take the division? I think so. Is it likely? No, not really, and the Wild Card — now with two spots per league — is much more reasonable to expect. So it goes.
Now, for the individual player matchups. What, you didn't think I was going to get right to the World Series winners, did you?
David Price -8.5 (-125) Strikeouts vs. Chris Sale
Risk: $2.00
To Win: $1.60
Yeah, yeah, yeah. I get it. Sale is nearly doubling Price's strikeout total, and a comeback is all but impossible. But, their K/9 numbers are not far off, and all it would take for Price to catch up to Sale is for Sale to miss a little more time than Price already has. I won't wish badly upon Sale … but I can wish that he stops striking people out, right?
Ryan Braun +6.5 (-125) Hits+HRs+RBIs vs. Josh Hamilton
Risk: $2.00
To Win: $1.60
Right now, Braun, despite 102 fewer at bats, has 110 total (65 Hits + 9 HRs + 36 RBIs) to Hamilton's 118 (72 Hits + 12 HRs + 34 RBIs). So, what I'm saying is: I was right. Regardless of what they finish with — though I still expect Braun to pull away with it by the end of the season given his much higher batting average — I am at least content that I made the right decision.
Max Scherzer +5.5 (-115) Strikeouts vs. Felix Hernandez
Risk: $2.00
To Win: $1.74
Finally, something that makes me truly proud. My thought process heading into this season: Scherzer was finally putting it together in 2012, Hernandez just got a whopping contract after pitching a gazillion innings in the past several years, and this is just a sucker bet for "King Felix" fans. Right now, I think I'm doing alright: Scherzer leads the American League in Ks with 139, with Hernandez on his tail with 130. But, it must be noted that Hernandez has thrown one more start than Scherzer, showing a potentially bigger lead for Scherzer down the road. Game, set, match.
Jason Heyward +2.5 (+105) Hits+HRs+RBIs vs. Giancarlo Stanton
Risk: $2.00
To Win: $2.10
Well, this is a battle for "who won't be worse by the end of the season." Heyward has an impressive total of 82 (54 Hits + 7 HRs + 21 RBIs) against Stanton's 72 (42 Hits + 8 HRs + 22 RBIs). Granted, both players have missed a considerable amount of time, but injury does not excuse poor performance. Neither of these young players have lived up to their preseason hype, and while injuries may be one factor, youth certainly isn't helping.
Evan Longoria +5.5 (-115) Hits+HRs+RBIs vs. David Wright
Risk: $2.00
To Win: $1.74
This was made out of pure principle. "Evan" is a fantastic name, and his last name, Longoria, is shared with another celebrity who has dominated her game, Desperate Housewives, for many years. Also, Longoria doesn't ask cougars to vote him into the All Star Game, then retract the offer. As of this writing, Longoria stands at 159 (93 Hits + 17 HRs + 49 RBIs) against Wright's 154 (98 Hits + 13 HRs + 43 RBIs). I think it just goes to show you that you don't bet against a guy named Evan…
And with that, my preseason World Series Champions:
2013 World Series: Atlanta Braves (+1400)
Risk: $2.00
To Win: $28.00
I guess I was a little Braves-heavy on my preseason predictions. I think they have a fairly dominant pitching staff (Kris Medlen, Tim Hudson, Mike Minor, Paul Maholm, and Julio Teheran seemed strong enough to me), a formidable lineup (Upton — Justin, not B.J. –, Gattis/McCann, Uggla, and, of course, Freddie Freeman), and a good position (an NL East comprised of three teams that have no shot at contending), I saw a team that was prepared to coast through the regular season and prepare for the playoffs in early September, whether by way of NL East Champion or Wild Card entry.
2013 World Series: Kansas City Royals (+6600)
Risk: $1.00
To Win: $66.00
Well, this was more of a pipe-dream, but I thought they had enough young talent (Hosmer/Moustakas/Gordon/Butler/Perez) and some new help in the rotation with James Shields, giving them a slight chance to sneak into the playoffs as a Wild Card team and upset some of the big boys. Who am I kidding? I just thought it would be awesome to say, "Yeah, I bet on the Royals to win the World Series," if they actually won.
2013 World Series: Tampa Bay Rays (+1600)
Risk: $2.00
To Win: $32.00
Like I said earlier, I thought the AL East was ripe for the taking, and I thought Tampa Bay would be the team to do it. It's not over yet, but I'm pretty much going to concede that this is only slightly more likely to payoff than the Royals bet.
2013 World Series: Pittsburgh Pirates (+3500)
Risk: $1.00
To Win: $35.00
Yeah, I know, I'm a genius. I knew the Pirates would be 53-34 and tied with the St. Louis Cardinals for first place in the NL Central over halfway through the season…
But, in all honesty, I thought the Pirates had a far better chance than 35-to-1 to win it all, especially considering how good they looked last season before they blew it at the end. At the very least, they were bound to compete for a Wild Card spot, and once they were in the playoffs, anything can happen. I'm liking my chances more and more every day.
2013 World Series: Oakland Athletics (+2200)
Risk: $1.00
To Win: $22.00
A man can dream, right? Although, if the A's were to make it to the World Series, I likely would have $0 to my name, as I will undoubtedly fly to Oakland for at least two of the games, thus wiping out what little savings I have. As an A's fan, though, it'd be more than worth it.
2013 World Series: Milwaukee Brewers (+2700)
Risk: $1.00
To Win: $27.00
OK, I can't be perfect all the time…
2013 World Series: Baltimore Orioles (+3000)
Risk: $1.00
To Win: $30.00
With the Orioles tied in second place in the East, just five games out of first place, I am really starting to like my odds. With Chris Davis hitting the cover off of the ball, and Manny Machado hitting doubles like he's Tris Speaker (throwback alert! Speaker is the all-time leader in doubles), I like the O's chances in a seven game series against almost any team. They're not the most consistent team, hence their good-but-not-great record, but they're good enough, streaky enough, and scary enough to be a World Series Champion.
I'll leave you with one final betting story. A friend of mine from Boston, who, as you may have imagined, is a die-hard Red Sox fan, makes the same bet with his best friend every season: $100 that the Red Sox win the World Series. Luckily for him, it paid off twice in the past decade.
The moral of the story is this: whether you put money on a bet or just do what my friend Matt calls "a man bet" (just a handshake and bragging rights), it's fun to bet with your friends concerning your sports knowledge. Otherwise, how will we ever know who will emerge as the new-school Howie Schwab?
What, if any, bets did you make before the season?
By: Evan Kendall
Twitter: @Evan_TSP