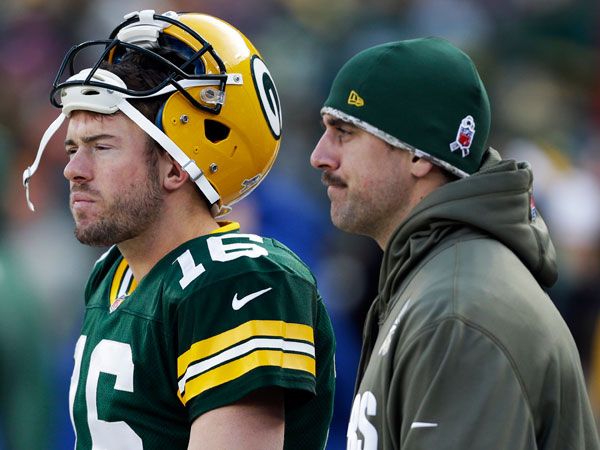 Dear Cheeseheads,
Are you panicking yet? After all, a portion of you were calling out for Brett Favre the moment Aaron Rodgers suffered his shoulder injury against the Chicago Bears – and let's be honest: most of you were not joking. Despite how stubborn he can be at times, we're lucky to have somebody as rational as Ted Thompson in control of those decisions. Take a breath.
You're scared, I get it. I am too. It's not often that I've seen a quarterback playing for the Green Bay Packers who wasn't Brett Favre or Aaron Rodgers. In fact, Sunday marked just the third time in 372 games that neither Favre nor Rodgers started at quarterback for the Packers. This Sunday in New York will be the fourth. It's an astonishing statistic, but it shows how spoiled we've been.
I understand that if we follow a team who we're used to seeing win, we expect them to keep winning. I understand the standards the Green Bay Packers have. But people, have some perspective. We're dropping like flies. The whole 'next man up' line is great until you run out of men to bring up. And yet, our defense is still the biggest problem the Packers face – not the quarterback position. I know it's crazy, but it's true.
Think about this, and I mean this with all of the respect in the world to the following fan bases: we're not fans of the Cleveland Browns, we're not fans of the Jacksonville Jaguars, we're not fans of the Tampa Bay Buccaneers, we're not fans of the Minnesota Vikings, and so on. It could be so much worse, but we don't care. We're blind to the fact that we've been spoiled for the better portion of two decades. I'm 24 years old and I've seen the Packers win two Super Bowls. Take a step back, cheeseheads, and breathe.
Was Seneca Wallace ever going to be a suitable backup? No, probably not. With the groin injury he suffered on Sunday, it's likely his time with the Packers is coming to an end. This brings me to my next point: Scott Tolzien versus Matt Flynn.
To be clear, Tolzien is the man who will start against the New York Giants this Sunday. Following the Packers' loss to the Philadelphia Eagles, Mike McCarthy wasted no time in saying, "I'll tell you right now, Scott Tolzien will start against the New York Giants, so we'll answer that question right here."
We're blind to the fact that we've been spoiled for the better portion of two decades.
You may not like it, you may not want to see it, but the fact is this: Scott Tolzien, who was on the practice squad one week ago and took only a few reps (if any) as QB1 in practice this past week, did more than enough to earn a start. Not to mention, he was taking snaps from TJ Lang on Sunday. TJ Lang plays left guard, not center. Do you understand how difficult all of this must have been?
But what about Matt Flynn, cheeseheads? He's back in green and gold now, after all. He's going to be the man that saves us all, right? I mean, he had that record-breaking performance against the Detroit Lions almost two seasons ago when he threw for 480 yards and 6 touchdowns. Are you still holding on to that? Do you realize what has happened since that game?
First, the Seattle Seahawks signed him to a 3-year/$26m contract. Russell Wilson won the starting job, and months later Flynn was traded to the Oakland Raiders for two draft picks. It gets better, though. Flynn not only lost the starting job to unproven Ohio State quarterback Terrelle Pryor, but after his start against the Washington Redskins he was demoted to third-string. He was then released. The Buffalo Bills claimed him on waivers and also released him.
So in less than two full seasons, he's been on three different rosters (not including Green Bay) and he's made one start because Terrelle Pryor had a concussion. He was released by the Oakland Raiders and Buffalo Bills. Think about that for a moment, cheeseheads. Think about the current quality of those two teams, then realize that Matt Flynn wasn't good enough for them.
He is not the savior you want him to be, and he is definitely not the same quarterback who torched the Detroit defense in January of 2012. He's been dealing with tendonitis in his throwing elbow for more than a year now. You all do realize that doesn't just go away, right? You all must understand how much that impacts his ability to be an effective quarterback. It appears desperate times do indeed call for desperate measures.
I understand you're scared. Really, I do. We're not used to this. For me, it's always been 'Well, if we have Brett Favre, we've got a shot.' Or, 'Well, if we have Aaron Rodgers, we've got a shot.' Well, for the time being, we've got Scott Tolzien. If he completely falls apart against New York on Sunday, then maybe we'll see Matt Flynn. Until then, we won't.
A particular tweet from a Packers fan caught my eye on Sunday. It read, "Dear diary – Today, I walked a mile in the shoes of less fortunate fans."
Remember that, cheeseheads. Take one last deep breath, and realize the world won't end. Realize there is still plenty of football to be played.