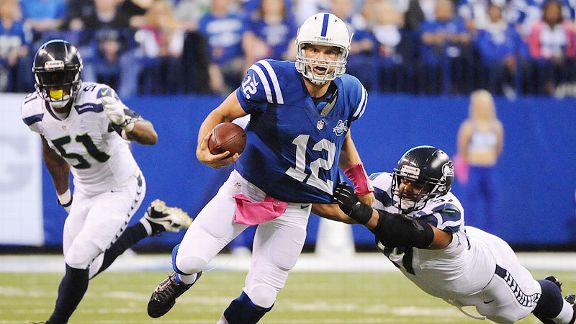 I want to hit myself. No seriously, I want to hit myself in the face with a frying pan. I've always prided myself on being able to evaluate players and teams objectively. I don't let ridiculous narratives play into my opinions, I never watch ESPN for more than highlights, and I once successfully engaged a former NBA Players Association executive in an argument about the futility of the mid-range shot. I'm not always right, but at least I'm informed. But a few weeks ago, I wrote this:
"I originally wanted to go against everything I believe in and rank Luck ahead of Rodgers. Rooting for Luck is just fun. There's no stigma attached to him because he's so young and so personable. His team hasn't surrounded him with veteran stars yet. He just wins, but not in the obnoxious way that we say that about Tebow."
Seriously? I was gonna rank Andrew Luck ahead of Aaron Rodgers? Aaron Rodgers won an MVP! He's the best quarterback in the NFBPML (National Football but Not Peyton Manning League). Andrew Luck isn't CLOSE to Aaron Rodgers. Even if most talking heads aren't going that far, Luck is pretty much universally praised as a great quarterback. In reality, however, Andrew Luck is the most overrated player in football by a pretty significant margin.
Luck is typically compared to Robert Griffin III and Russell Wilson based solely on their draft position. Based on level of play alone, he's got a pretty good set of contemporaries. Consider the following (all stats accurate as of 12/22):
Player A: 21 TDs, 9 INTs, 58.7 percent Completions, 3,299 Passing Yards, 85.2 Passer Rating
Player B: 23 TDs, 14 INTs, 62.4 percent Completions, 3,627 Passing Yards, 86.6 Passer Rating
Player C: 17 TDs, 8 INTs, 59.9 percent Completions, 2,231 Passing Yards, 85.3 Passer Rating
All three players are fairly similar in overall performance. Player C's counting stats are lower, but he hasn't been starting all year and comes in right around the other two in stats normalized per attempt. Their supporting casts are, statistically anyway, not too far off. Their running games are ranked 21st, 22nd and 24th. Their defenses are ranked 13th, 19th and 21st. All have had one marquee receiver for most of the year with a few other decent options. Overall, you'd be hard pressed to find a significant difference between any of the three.
You know Andrew Luck is one of these three. He's Player A. Player's B and C? Ryan Tannehill and Mike Glennon. Nobody considers either of those two elite quarterbacks. Why then, do we think of Luck as if he's one?
He isn't ranked in the top-10 in a single meaningful passing statistic. He's 14th in touchdowns and yardage, 22nd in passer rating and 28th in completion percentage. He does a good job of limiting interceptions, but that's mitigated by the lack of plays he makes for his own team. Essentially, that makes him a game manager, but his completion percentage doesn't fit that MO.
That's been the crux of Luck's problems in the NFL. He's just not a very accurate passer. Last year, he made up for it by throwing the ball deep. He threw for almost 4,400 yards last year, but probably won't hit 4,000 this year. He's fallen all the way down to 27th in the league in yards per attempt, behind such luminaries as Matt Schaub, Geno Smith and Christian Ponder.
He's given up the bigger plays in the hopes of making it up with more completions, which he's done, but not at nearly a high enough rate. Elite quarterbacks complete over 65 percent of their passes. Luck isn't particularly close to 60 percent.
A lot of his accuracy issues come from, for lack of a better term, a hero complex. Luck makes a lot of unnecessary decisions by either trying to make big plays that aren't there or by throwing at covered receivers hoping that he can fit the ball into tight windows. Hell, he even tries to make a few too many plays with his feet. It's as if he has to make a huge play EVERY play rather than letting the offense flow and making plays as they come.
The crux of Luck's problems in the NFL is that he's just not a very accurate passer.
These decisions aren't always necessarily bad decisions, as truly bad decisions tend to lead to turnovers, it's more a matter of not making the best ones. Luck isn't accurate enough to attempt some of the plays that he does, and as such, needs to focus more on playing within the offense.
The upside to this hero complex is that it leads to big plays, and big plays lead to wins. Luck has a remarkable history of winning games he shouldn't, and is one of the few quarterbacks in history to eschew the statistical certainty of close games being random. He's an absolutely absurd 14-2 in games decided by one possession, which typically amount to a 50-50 proposition. It's reflected in the standings: Luck's Colts are 21-10 since 2012 despite holding a Pythagorean Winning Percentage of a .500 team.
Luck has been the main beneficiary of these added wins, but logically speaking, there's no effing way he keeps up that pace. It'd just be impossible to win seven close games for every one that you lose. To put that number in perspective, Peyton Manning and Tom Brady are both in the 60's, meaning they win about twice as many close games as they lose. Once the Colts start losing some of these games, the mystique around Luck should die down and he should come closer to being rated properly.
This is not at all an attempt to bash Luck. He has all of the tools needed to be a great NFL quarterback, but he's just not there yet. As of right now, he's horribly overrated mainly because he wins. The Colts aren't complaining because they really only care about winning, but when evaluating the performance of individual players it doesn't make sense to attribute that much to team performance.
Right now, Andrew Luck is a middle-of-the-pack quarterback with the potential to get better. Let's stop pretending he already belongs in the discussion with the best in the league.