Every time a bell rings, a quarterback gets a mega payday. I'm fairly certain that's not what George Ba​iley envisioned, but that's the reality of the situation. Take a look:
Joe Fla​cco, Baltimore Ravens – $120.6MM contract, $52MM in guaranteed money.
Aaron R​odgers, Green Bay Packers – $110MM extension, $54MM in guaranteed money.
Matt ​Ryan, Atlanta Falcons – $103.75MM extension, $59MM in guaranteed money.
Tony Ro​mo, Dallas Cowboys – $108MM extension, $55MM in guaranteed money.
This brings me to the man of the hour: Jay Cu​tler. On Thursday the Chicago Bears announced they had signed Cutler to a 7-year contract through 2020, with $54MM in guaranteed money. Have 'Da Bears' lost their minds? Not particularly, no.
Chicago Bears through the years: Starting Quarterbacks
When the news broke, I must admit that I was very skeptical. I wasn't quite as excited as many Packers fans who declared the NFC North to be ours for the next seven seasons, but I wasn't disappointed with Chicago's move given his history against Green Bay.
Here's the thing: As a Packers fan, I've been spoiled beyond my wildest dreams. I was born in 1989 – in September of 1992 Brett Favre made his debut for Green Bay and when he retired for the first time in 2008, it was time for Aaron Rodgers to take over.
We stand here today with two things very clear: Aaron Rodgers is the face of the Packers franchise. He is also arguably the best quarterback in the NFL today.
Since Favre's debut in 1992 the Bears have had 26 different start​ing quarterbacks. Here's the list.
1992: Jim Harbaugh (yes, that one), Peter Tom Willis, Will Furrer
1993: Jim Harbaugh, Peter Tom Willis
1994: Steve Walsh, Erik Kramer
1995: Erik Kramer
1996: Dave Krieg, Erik Kramer
1997: Erik Kramer, Rick Mirer
1998: Erik Kramer, Steve Stenstrom, Moses Moreno
1999: Shane Matthews, Cade McNown, Jim Miller
2000: Shane Matthews, Cade McNown, Jim Miller
2001: Jim Miller, Shane Matthews
2002: Jim Miller, Chris Chandler, Henry Burris
2003: Kordell Stewart, Chris Chandler, Rex Grossman
2004: Rex Grossman, Craig Krenzel, Chad Hutchinson, Jonathan Quinn
2005: Kyle Orton, Rex Grossman
2006: Rex Grossman
2007: Rex Grossman, Brian Griese, Kyle Orton
2008: Kyle Orton, Rex Grossman
2009: Jay Cutler
2010: Jay Cutler, Todd Collins
2011: Jay Cutler, Caleb Hanie, Josh McCown
2012: Jay Cutler, Jason Campbell
2013: Jay Cutler, Josh McCown
Jay Cutler is a necessity for the Chicago Bears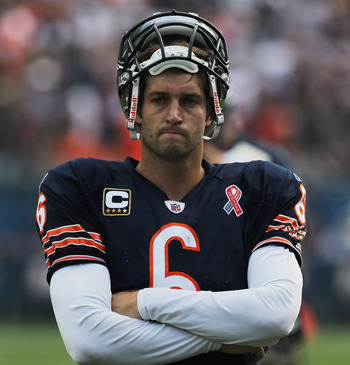 Many of us love to pick on Jay Cutler. The narrative agai​nst him is well-documented. We've heard it all before: he's whiny, he's not tough enough, he's not a franchise quarterback, and so on. While Cutler does bring criticism on himself with untimely turnovers, the media making up headl​ines in an attempt to question his toughness speaks for itself.
During Week 1 of the 2011 season, the Bears opened against the Atlanta Falcons. Near the end of the game attention turned to the the knee injury Cutler suffered against the Packers in the 2010 NFC Championship Game. The Fox broadcast then flas​hed three headlines that were supposedly from the Chicago Tribune.
They read:
Cutler Leaves With Injury, Cutler Lacks Courage, Cutler's No Leader
Fox later admitted that the headlin​es were fabricated.
Here is the statistical fact, however: in the Cutler era, the Bears are 39-28 with him as their starting quarterback. While that win-loss number isn't particularly out of this world, it is better than the 5-8 mark without him as their starter.
In three of his five seasons in Chicago, Cutler has started 15 games or more. He was limited to 10 games in 2011 and 11 games in 2013 due to injuries. Even with those two injury-shortened seasons, Cutler has proved to be the most consistent quarterback the Bears have had in the last 20 years. Does he fit most people's definition of the "franchise player?" No, but he is without a doubt the face of the Chicago Bears franchise.
Jay Cutler by the numbers
Cutler often gets flak for the amount of interceptions he throws, but that's because he's earned it. His 3.4 INT percent ranks him ti​ed for 31st among active quarterbacks. He shares that place with the likes of Christian Ponder, Eli Manning, and Josh McCown. The only names below him on the list are Ryan Fitzpatrick, Mark Sanchez, and Rex Grossman. To say that's not extraordinary company would be an understatement.
On the other hand, Cutler has been sacked an absurd 218 times in his career. While that puts him in the middle of the pack among active quarterbacks, it doesn't take into account how many years each quarterback has played. So over the course of seven seasons, Cutler has been sacked an average of 31 times. No season was worse than 2010 when he was sacked 52 times – this followed with seasons of 23, 38, and 19.
While a fair percentage of interceptions are on Jay Cutler, it's unfair to overlook an extremely poor offensive line or a lack of offensive weapons. In Cutler's case from 2009 through 2011, he had to deal with both.
Jay Cutler 2009-2011
2009: 60.5%, 27 TD, 26 INT, 4.7 INT%, 76.8 rating, 35 sacks
2010: 60.4%, 23 TD, 16 INT, 3.7 INT%, 86.3 rating, 52 sacks
2011: 58.0%, 13 TD, 7 INT, 2.2 INT%, 85.7 rating, 23 sacks
Bears leading WR 2009-2011
2009: 60 receptions, 612 yards, 8 TD
2010: 51 receptions, 547 yards, 3 TD/51 receptions, 960 yards, 5 TD
2011: 52 receptions, 490 yards, 1 TD
In 2009, their leading receiver was tight end Greg Olsen, while wide receivers Devin Hester (you know, the return specialist) and Earl Bennett caught 57 and 54 passes, respectively.
In 2010, their leading receivers were running back Matt Forte and wide receiver Johnny Knox. Yes, Johnny Knox. No, I'm not kidding.
Finally in 2011, Matt Forte led the way with… you saw it up there – 52 receptions. Next on the list was Johnny Knox with 37.
It's actually almost unbelievable to see how competent Cutler's numbers were those years when his biggest receiving threat was a running back.
In 2012, the Bears now had star wide receiver Brandon Marshall. While Cutler's numbers did take a dip that season, 2013 was a sign of things to come with the inclusion of Alshon Jeffery.
Jay Cutler 2012-2013
2012: 58.8%, 19 TD, 14 INT, 3.2 INT%, 81.3 rating, 38 sacks
2013: 63.1%, 19 TD, 12 INT, 3.4 INT%, 89.2 rating, 19 sacks
Bears leading WR(s) 2012-2013
2012: 118 receptions, 1,508 yards, 11 TD
2013: 100 receptions, 1,295 yards, 12 TD/89 receptions, 1,421 yards, 7 TD
In 2012, that's all Brandon Marshall. In 2013, the first line is Brandon Marshall and the second line is second-year player Alshon Jeffery.
Both receivers measure 6 feet, 4 inches tall. Marshall is 29 while Jeffery is only 23. With those two weapons in Cutler's arsenal, there's no reason he should be unsuccessful. He also has an all-around running back in Matt Forte. He has all of the offense he needs.
That was always the defense fans of Cutler had – the "He doesn't have an offense!" defense. While it's accurate, there's still one problem: Cutler doesn't throw enough touchdowns to counteract the amount of interceptions he throws.
Yes, seasons of 16, 7, 14, and 12 interceptions are respectable. However, seasons of 23, 13, 19, and 19 touchdowns in comparison are troubling. It's worth noting that he had as many touchdowns (19) in 15 starts in 2012 as he did in just 11 starts in 2013. He's thrown 112 interceptions in 104 games – that's 1.07 per game, a number that needs to come down.
In just nine starts in 2013, Packers quarterback Aaron Rodgers had 17 touchdowns and only six interceptions – two of which came in the finale after he missed seven weeks with a broken collarbone. His interception percentage of 1.8 percent leads all active quarterbacks. I'm not saying Cutler has to be at Rodgers's level. He doesn't; he just needs to show more of the good Jay and less of the bad Jay.
Chicago losing to Green Bay in the finale was not Cutler's fault. He played very well throughout and the only interception he threw was a desperation heave on 3rd and 10 as time ran out.
The Bears may have surprised many people on Thursday when they announced Cutler's contract, but it was the right move to make. Early in Cutler's tenure with the Bears, it was the defense that carried the team. This season when he played, it was his play that dictated how well the Bears did. Their defense often faltered.
The Bears offense was eighth in the league in yardage this season, while their defense ranked 30th.
This isn't baseball where the entire contract is guaranteed. Cutler is 31 and I expect this contract to be revisited in year three or four, depending on his play until then. All of the pieces are in place on offense, however. They've extended Matt Forte so now they must shift their attention to Marshall and Jeffery.
It's time for him to respond to this contract with better decision making. He can't make all of the throws he tries to make. Unfortunately, he always tries to make them. That's a major difference between him and that franchise player they have over in Green Bay: while Favre always forced whatever pass he wanted to, Rodgers rarely does.
The immediate future is bright for the Chicago Bears if the defense gets its act together and Cutler cuts back on the turnovers. If it reverts back to the same old story in 2014, then all of the criticism will be well-deserved. Until then, Jay Cutler is a franchise quarterback. It's time we watch it all unfold.