Depending on how you look at it, Rajon Rondo has yet to prove himself as an NBA player. He has certainly proven his abilities, becoming arguably the second best all-around player in the NBA behind LeBron James. He's proven his toughness. He's proven he can be a key component on a championship team. He's even proven he can be the by-far best player in a playoff series.
What Rondo hasn't proven, however, is whether he is a true superstar. The jury is still out on whether or not he can effectively lead a team on his own.
This topic has seemed to arise time and time again over the past several years. Starting with his masterful playoff series against the Bulls in 2009 (19 ppg, 12 apg, and 9 rpg) and continuing as Boston's former Big Three got older, each season seemed to be "Rondo's Year." Each season was projected to be the year Rondo finally stepped out of Kevin Garnett and Paul Pierce's shadows and became the Celtics' superstar.
This never happened. Even though Rondo has performed greatly over the past three seasons, he never fully took the reins of the Celtics. He had stretches of superstardom, but he always seemed to defer to Pierce and KG, whether he really wanted to or not.
People wondered whether or not Rondo was ready, or even capable, to assume the spotlight and responsibility that comes with being a superstar. Others argued it was tough to take on an "alpha dog" role when a player like KG is on your team.
He also showed signs of immaturity. There were rumors of rifts between him and Doc Rivers, as well as his well-publicized feud with Ray Allen. He bumped a referee in the playoffs versus Atlanta two years ago, threw a ball at a referee this season, and he fought Kris Humphries during a game to put an end to his impressive (although ironically selfish at times) streak of 37 games with at least 10 assists.
Even though Rondo has performed greatly over the past three seasons, he never fully took the reins of the Celtics.
All of these flaws will be at the forefront of the 2013-14 NBA campaign. With the trade of Kevin Garnett and Paul Pierce, as well as Doc Rivers's departure this past offseason, the time for Rondo is now. There is nobody standing in his way of becoming a true NBA superstar anymore, but there is also no way of hiding his immaturity and no one to cover for him. As Rick Pitino would say, Paul Pierce, KG, Doc, and Ray Allen "are not walking through that door" anymore.
I should point out that Rondo's performance this season if obviously contingent on his health upon returning from tearing his ACL last year. As we saw with Derrick Rose, coming back from a knee injury is no easy task, but many project Rondo to be back around December.
Even though some may try to discount this season's importance due to his injury, it actually provides the perfect opportunity for Rondo to become a leader.
He has always been quiet. He has always had Ray Allen, KG, Pierce, or Doc to defer to. Not to say he is afraid of the spotlight; his playoff numbers prove otherwise (15 ppg, 9 apg, and 6 rpg including a historic 10 triple doubles during his postseason career), but he has never been forced to become the vocal leader of the Celtics. Nor has he ever had to be the lone cornerstone of the franchise.
Assuming relatively good health, this season will provide him with both. He'll have to be a role model to young guys like Avery Bradley, Phil Pressey, Jared Sullinger, Kelly Olynyk, etc. He'll also have to get veterans like Jeff Green, Gerald Wallace, Brandon Bass, and Kris Humphries to respect him as the alpha dog.
The most unique part of this situation is the fact that nothing like it has ever happened in recent NBA history. Kobe got out from under the shadow of Shaq and Phil Jackson (for a little while at least) and became a superstar, but there was already a consensus that he was on that level before Shaq was traded and Phil "retired."
Some may even point to Andrew Bynum. He was a talented, yet somewhat immature star, who was playing under the shadows of Kobe and Pau Gasol. Even though injuries derailed his shot at proving himself last season, his competiveness, toughness, and motivation were questioned (never the case with Rondo). He also wasn't as curious of a case.
What I mean by that is that you could say Rajon Rondo is the most overrated player or the most underrated player in the NBA, and you would have a compelling argument for both.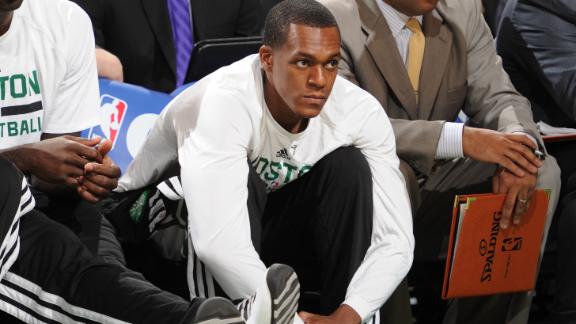 No one seems to be able to decide what Rondo is. Is he the best true point guard of our generation? A player who can dominate the game in every way imaginable; who isn't afraid of the big stage? Or is he someone who is offensively challenged? Someone who could never be the best player on a championship contending team because he can't score consistently?
Although the Celtics will not be contending for Banner 18 this season (unless Kelly Olynyk has something to say about it), this is Rondo's opportunity. This is his chance to prove the naysayers wrong, both on the hardwood and off it.
Next year, and specifically the next two years depending on his health, will define Rondo's career. He is either going to be viewed as a true superstar and possible future Hall of Famer, or he will be viewed as an exceptional complementary player who benefited greatly off of the talent Danny Ainge managed to put around him the past several years.
He's now the captain of the ship. Brad Stevens doesn't have the experience or pedigree yet to take control over Rondo, and nobody on the Celtics roster has a shot either. Whether or not Rondo becomes what many think he can be: The best player and leader on a championship team, is completely up to him.
There is no KG to hide behind. There is no Celtics legend like Paul Pierce to defer to in the clutch. There's not even another player who can compare to Rondo talent-wise in the Celtics' locker room (nor will there be any time soon). It's only Rondo. Even if his injury doesn't heal as fast, he'll still have the chance to prove himself as a leader. Once he proves himself as a leader, teacher, and a mentor, his game will take off to the next level.
For the record, if you haven't noticed by now, I'm firmly in Rondo's camp. I think he is vastly underappreciated and will thrive when he has no choice but to take over the team completely on his own. Also, all the recent doubt surrounding his abilities are providing Rondo with the most motivation he's ever has as a basketball player. Rondo will have a much larger chip on his shoulder in the NBA this season, as if he needs a bigger one.